History of BMX (2021-2022)
History of BMX, year 2021
Dear followers of this website. I have to tell you all that this year, 2021, will be the last year that I write about the History of BMX and other things concerning BMX. I have been in BMX wordwide since I got involved in this great sport in 1974 and decided to finish up my activities in this year. I have reported on among others, the Olympic Games since the beginning in 2008, in 2012, 2016 and 2020 would have been the 4th. Olympics I should have written about. Due to a world wide pandamic ...Covid-19, the 2020 Olympics were postponed and as it stand now, the Olympics will go on in 2021. For me it's a good time to leave it up to the next generation to report and write about BMX world-wide developing from 2022 on.

There still is a lot to update on my website from the beginning up till 2021. I will continue that work with pleasure. Wishing you all the best for the future and enjoy reading the University of BMX website.
Cheers, Gerrit Does
June 11 th. a dear friend and BMX pioneer organizer, Mr. Theo Overman passed away.
BMX pioneer from the early days of BMX, 1980 through the mid '90's, Theo Overman passed away. Theo has been very actif in the Nijmegen area in BMX and later on became part of the E.C.C. - European Challenge Cup officials team of Ponypark Slagharen. Over the years Theo and I stayed in good contact up and till 2020. Due to cancer he passed away in June. Thanks for all your help and advices Theo, always being yourself, calm and collected. R.I.P. my friend.

July 9- 10-11th. the UCI BMX European Championships at Zolder - Belgium took place.
Due to Covid-19 situation in among others Europe, these European Championship BMX Race were very different from the normal Championships. Because of Covid there were restriction and therefore only around 1/3 the number of competators where able to race, this time in totla around 830 riders. Also the number of spectators were limited till a max of 2500 persons. One had to be tested covid free or one had to have a QR code proven that you had been vaccinated. No riders from Great Britain were present.

The head of organisation, mr. Marc Wauters and his team were informed only 1 month before actual racing, they were allowed to organize this Europeans with restrictions due to Covid. They did a great jog getting everything finished in time. The experience was there, the Zolder BMX organisation organized the 2015 and 2019 UCI BMX World Championship and done that very well.


European Championship
Results BMX Elite Ladies - July 11th. 2021

1 Zoe Claessens (SUI) - European Champion.
2 Manon Valentino (FRA)
3 Tessa Martinez (FRA)
4 Simone Christensen (DEN)
5 Natalia Afremova (RUS)
6 Natalia Suvorova (RUS)
7 Manon Veenstra (NED)
8 Christa Von Niederhäusern (SUI)

9 Ruby Huisman (NED)
10 Elke Vanhoof (BEL)
11 Rikke Balle (DEN)
12 Daniëlle Vrenegoor (NED)
13 Dorte Balle (DEN)
14 Camille Maire (FRA)
15 Regula Runge (GER)
16 Axelle Etienne (FRA)
17 Mathilde Doudoux (FRA)
18 Charlotte Devolder (FRA)


European Championship
Results BMX Junior Ladies - July 11th. 2021

1 Mariane Beltrando (FRA) - European Champion.
2 Thalya Burford (SUI)
3 Marie Favrel (FRA)
4 Laurine Crozet (FRA)
5 Michelle Wissing (NED)
6 Renske Van Santvoort (NED)
7 Léa Brindjonc (FRA)
8 Elisa Lance (FRA)

9 Adriana Dominguez Bernal (ESP)
10 Capucine Favre (FRA)
11 Jodie Viemont (FRA)
12 Tiphaine Rullier (FRA)
13 Yvette De Waard (NED)
14 Robyn Gommers (BEL)
15 Aiko Gommers (BEL)
16 Liva Lizete Glazere (LAT)
17 Felicia Klingström (SWE)
18 Mariona Calvis Garcia (ESP)
19 Agathe Bodineau (FRA)
20 Orleen Nicolas (FRA)
21 Anne Lise Corlay (FRA)


European Championship
Results BMX Elite Men - July 11th. 2021

1 Arthur Pilard (FRA) - European Champion
2 Mitchel Schotman (NED)
3 Eddy Clerte (FRA)
4 Jay Schippers (NED)
5 Aleksandr Katyshev (RUS)
6 Mathis Ragot Richard (FRA)
7 Paddy Sharrock (GBR)
8 Kristens Krigers (LAT)

9 Dave Van Der Burg (NED)
10 Amidou Mir (FRA)
11 Michele Tomizioli (ITA)
12 Romain Racine (FRA)
13 Ruben Gommers (BEL)
14 Corentin Dubois (FRA)
15 Julian Schmidt (GER)
16 Justin Kimmann (NED)

17 Evgeny Kleshchenko (RUS)
18 Martti Sciortino (ITA)
19 Thomas Jouve (FRA)
20 Boris Ponomarev (RUS)
21 Karl Le Nagard (FRA)
22 Quentin Charavin (FRA)
23 Matthijs Verhoeven (BEL)
24 Quillan Isidore (GBR)
25 Arnaud Chauvin (FRA)
26 Matteo Grazian (ITA)
27 Nick Vandeput (BEL)
28 Jakob Bernhart (GER)
29 Enzo Papa (FRA)
30 Ugo Ballerini (SUI)
31 Mattia Furlan (ITA)
32 Hugo Marszalek (FRA)
33 Bruno De Freitas Cardoso (POR)
34 Valentin Deumie (FRA)
35 Macleo Meynier (FRA)
36 Wouter Segers (BEL)
37 Stef Lauwers (BEL)
38 Liam Webster (GER)
39 Simba Darnand (FRA)
40 Djeronimo Slots (NED)
41 Philip Schaub (GER)


European Championship
Results BMX Junior Men - July 11th. 2021

1 Tim Goossens (NED) - European Champion
2 Matteo Tugnolo (ITA)
3 Jools Melis (BEL)
4 Toni Skrzypek (GER)
5 Casper Pipers (NED)
6 Pierre Geisse (FRA)
7 Jaymio Brink (NED)
8 Leonardo Cantiero (ITA)

9 Roy Kater (NED)
10 Lucas Mues (GER)
11 Seppe Laenen (BEL)
12 Gebbe Sauvillers (BEL)
13 Einar Lindberg (SWE)
14 Julian Bijsterbosch (NED)
15 David Szell (GER)
16 Louis Kasper (SUI)

17 Tanguy Rivoire (FRA)
18 Arthur Chavanon (FRA)
19 Marek Neuzil (CZE)
20 Ivars Svarinskis (LAT)
21 Victor Agosti (FRA)
22 Tommaso Gasparoli (ITA)
23 AIlan Lefebvre (FRA)
24 Wannes Magdelijns (BEL)
25 Bernd Smeets (BEL)
26 Marcus Leth (DEN)
27 Gabriel Avellaneda (ESP)
28 Louison Rousseau (FRA)
29 Emils Martins Treimanis (LAT)
30 Adam Aubin (FRA)
31 Levin Grünig (SUI)
32 Marco Radaelli (ITA)
33 Clement Lafragueta (FRA)
34 Mathis Gantner (SUI)
35 Jorrit Maes (BEL)
36 Filib Steiner (SUI)
37 Didi Van Tiggel (BEL)
38 Miquel Hernandez Gallego (ESP)
39 Marc Roman Martinez (ESP)
40 dvards Emils Liberts (LAT)
41 Tom Petezki (FRA)
42 Matyás Mentlík (CZE)
43 Thomas Willems (BEL)
44 Aurélien Vaessen (BEL)
45 Hippolyte Bourdeau (FRA)
46 Tim Gille (SWE)
47 Kip Stauffacher (SUI)
48 Marco Boyadjian (FRA)
49 Boris Brekelmans (NED)
50 Anton Wennbring (DEN)
51 Kentin Perrichon (FRA)
52 Riccardo Rizzardi (ITA)
53 Karlis Pedraudzis (LAT)
54 NEDKuiper (NED)
55 Martins Zadraks (LAT)
56 Lukás Kuncar (CZE)
57 Antti Laakkonen (FIN)
58 Lucien Dussex (SUI)
59 Maximilián Marencík (SVK)
60 Jeremy Pache (BEL)
61 Max Skrzypek (GER)
62 Gijs Adriaanse (NED)
63 Timo Caloz (SUI)
64 Owen Mielczarek (BEL)
65 Jakub Vesecký (CZE)
66 Oliver Orosz (SVK)
67 Martin Fatnes (NOR)
68 Aaron Schoonbroodt (BEL)
69 Basten Weeland (NED)
70 Thor Hjul Seedorf (DEN)
71 Marko Manik (SVK)
72 Sem Lourensen (NED)
73 Nick Brugman (NED)
74 Mathis Carlier (FRA)
75 Bo Piepers (NED)
76 Aleksandr Kazantsev (RUS)
77 Mathis Jacquet (FRA)
78 Loïc Fourcade (FRA)

July 29-30th. the BMX (Race) OLYMPICS at the Games in Tokyo - Japan.



This will be the 4th. Olympics including "BMX Race" discipline since it's start in 2008;
-2008 the 1st ever Olympic Games including BMX Race, Bejing - China.
-2012 the 2nd. Olympic Games incuding BMX Race, Rio de Janeiro - Brasil.
-2016 the 3rd. Olympic Games including BMX Race, London - Great Britain.
-2020 these Olympic Games were postponed because of the Covid-19 pandamic world-wide and executed in .......
-2021 the 4th. Olympic Games including BMX, Tokyo - Japan.
Olympic BMX Track Tokyo-Japan viseble on the left side of the Dome.Juli 31-August 1st. the first ever BMX Freestyle OLYMPICS at the Games in Tokyo - Japan.
The 2020/2021 Olympics, a unique happening due to Covid-19.
Due to the world wide corona pandamic also the 2020 Olympic games in Tokyo-Japan have been postponed. At last the 2020 Olympics took place in 2021, ending July. No spectators were allowed at any event at the Olympics, National teams had to stay in their own "bubble" being checked several times a day on the corona virus. Still the athletes made the very best of this situation and exiting sportmoments were seen on TV.
Around 11.000 athletes were present.

In BMX Race Elite Women and Elite Men were competing for Olympic medals. Just to give al an impression here some pictures and the final results in BMX. First of all a few pictures showing you all the building of the track and then afterwards how it all looked when it was finished. Great Job done by the French track builders .......

On qualification day the weather was very bad, lots of rain, but the orginization was prepaired to get water off the track when the rain stopped. All went well afterwards.
Semi finals Elite Men heat 1.

Semi final Elite Men, heat 2.


The 200/21 Olympics did host around 11.000 athletes and the Paralympics 2 weeks later hosted around 4.000 athletes from all over the world.
Updates wille follow soon .........
August 20th. Looking back at the 2020/21 Olympic Games with a "Dutch view" .....
We like to look back at the 2021 Olympics helt in Tokyo - Japan with special attention to the Dutch National BMX Team performing there. So we talk about the BMX Race discipline now, since at these 2021 Olympics we do have also the 1st. ever BMX Freestyle discipline active there. The results for the Dutch National BMX Team was just great. At first it looked like evetything went wrong with our riders in Elite Men and Women classes, but in the end we did have Merel Smulders finishing 3rd. in the main event and winning at her first ever Olympics a BRONCE medal ..... compliments for that.

In the Elite Men, favorite rider Niek Kimmann ran into a Japanese official crossing the track during practise, crashed hard nd injured his knee. In the end Niek was so motivated to make the best of this bad start of the racing and did won the main event and recevied a GOLDEN medal and the Olympic title. As he mentioned in intervierws, "a DREAM"came true". Niek was the first Dutchman wining an Olympic title in BMX. Europe proved to be a strong BMX continent, after 4 Olympic Games including BMX ..... Maris Stromberg - Latvia did win the Olympic title in 2008 - Bejing, China ánd in Londen - England in 2012. In 2016 American Connor Fields did win the Olympic title with Niek Kimmann winning the Olympic title in 2020/21.

Not only for Niek a dream came true. Starting the I.BMX.F. in 1981 one of the main goals I had was getting BMX Race recognized and accepted as an Olympic discipline, that was at the time very optimistic to state. In 1984 as General Secretary of I.BMX.F. I applied offcialy with the I.O.C. for recoqnition of our sport. Over time we realized that working together with the FIAC and later intergrating with the UCI was nessesary to reach that goal ...... They were already recoqnized by the I.O.C. and that would help us getting there too. In 1996 I.BMX.F. officialy merged with the UCI and from then on "building" towards Olympic recoqnition would start seriously. President of the UCI and good friend mr. Hein Verbrugge (r.i.p.) did very good lobby work, National BMX organisations world wide within their continents started improving the level of our sport with National Championships, Continental Championship, World Championships, World Cup / Supercross event etc. In 2005 it was announced that BMX within the UCI had reached the official status of an "Olympic sport". During the Games of 2008 in Bejing-China, BMX Race had its first ever Olympic Champions. My "dream" on this subject came true ...... A 2e dream of mine was .... having a Dutch BMX rider (M/W) winning the Olympic title at some point. Well .... here Niek Kimmann comes it. He did it, he became the first ever Dutch rider winning an Olympic title in 2021.....my 2e dream came true as well .... I am so very glad !


Another very special thing is the fact that Niek Kimmann was presented with the Royal award named "KNIGHT in the ORDER of ORANGE NASSAU". At the same time three (3) bicycle track racers who did win GOLDEN MEDALS in the Team sprint, also received this special award. The came from BMX and changed to track racing .... there names are Harrie Lavreysen, Roy van den Berg and Jeffrey Hoogland (a 4th member came from cyling, Matthijs Buchli). This means BMX is a very good "school" for bicycle track racers as well.
At the 2008 Olympics in China also several former BMX racers from Great Brittain, who turned to track racing, did win GOLD and were KNIGHTED by Queen Elisabeth in 2008, they are Jamie Staff and Chris Hoy.


This all makes me very happy as KNIGHT in the Order of Orange Nassau sinds 2008 and I therefore do welcome the new Dutch KNIGHT's with great pleasure. The 2020/21 Olympics have been very succesfull for the entire Dutch National Team, BMX as a apart of that team promoted our sport as best as they good ....compliments to you all.


Cheers, Gerrit Does


The University of BMX statistics, .... double succes for Golden BMX'ers at Olympic games ánd at the UCI BMX Worlds in 2021.
Since the start of BMX being an Olympic Sport in 2008, again something UNIQUE happened last Sunday at the UCI BMX Papendal World Championship: Two European riders did win an Olympic Gold medal in their BMX class, Elite Men and Elite Women, as well did they win the UCI BMX World Championship title in the same year, 2021. They are;

Bethany Shriever - GBR Elite Women and
Niek Kimmann - NED Elite Men
Congrats to you both Bethany and Niek !

Trendsetter for such action at the Bejing Olympics was European Maris Strombergs. He won a Golden Medal in 2008 at the Olympics and the World title in Elite Men class that same year.
From outside Europe it was Mariana Pajon who did the same, winning a Gold Medal at the 2016 Olympics and the UCI BMX World title in Rio in 2016.

⁠
For the 1st time ever, BMX FREESTYLE is included in the Olympic Games in Tokyo - Japan, 2020-21.
Story .....
August 14-22nd. the UCI BMX World Championships at Papendal-Arnhem, Holland.
This BMX Worlds will be the 5th. BMX World Championship taken place in Holland since 1982 when the I.BMX.F, as a world wide governing body, started running / organizing World Championships.

- 1983 the 1st. ever outside the USA BMX WC under I.BMX.F. flag took place at Ponypark Slagharen - Holland.
- 1993 the 2nd. now I.BMX.F. - FIAC BMX WC took place in Schijndel - Holland.
- 2004 the 3rd. now UCI BMX WC in Valkenswaard - Holland.
- 2014 the 4th. UCI BMX WC in Rotterdam - Holland.
- 2021 the 5th. UCI BMX WC at Papendal - Arnhem, Holland.

Since the start of the I.BMX.F. organizing World Championships, the 2021 UCI BMX WC will the the 39th. Worlds organized since 1982. In 2022 we hope to see the 40th BMX Worlds organized and then we celebrate the 40th Anniversary of BMX World Championships. Hopefully we can organize a world wide Reunion of BMX Legends and Hero's in France during the 2022 WC.

Note: the 40th. UCI BMX World Championships took place in Nantes - France on July 30th - 31st. 2022. I am so sorry to say the NO ONE in France took up the task of organizing a World Wide Reunion of former and present BMX World Champions. Please read my OPINION on the 2022 UCI BMX Wworldchampionship in "History of BMX Year 2022".

August 29th. just found a nice post on facebook by Todd Huffman on Dave Clinton (BMX legend).
Just saw this nice post today on facebook, published by good friend Toff Huffman. This is what I added to the picture with Dave Clinton and Brad Lackey on it.

Gerrit Does added:
This is so cool ... David Clinton (l) en Brad Lackey (r) both on Kawasaki, David in the early '70's on a BMX and Brad mid '70 > on a MX machine. There is a nice story to this picture. When David Clinton and Perry Kramer stayed at my house in Waalre- Holland in the early '80, we all went to the FIM Luxembourg 500cc Moto-cross GP where Brad raced on Kawasaki. David and Perry supported Brad there and now ... some 41 years later, both David and Brad did meet again.

INSIDERS in MX know that Lacky and my brother in law Pierre Karsmakers (Honda) battled in 1976 for the AMA National MX Championship (USA) title in the Open class as well. Small world, great history.
BY THE WAY, the man posting this picture, Todd Huffman is a good friend of mine and former GT BICYCLES top guy, now making great historic video's of among others of MOTORCYCLE HERO's from the past.
Dave Clinton's reaction on the above picture on facebook today August 30th:
What a great day getting to hang out with your child hood hero Brad Lackey. Holding the custom plate that Brad made for me.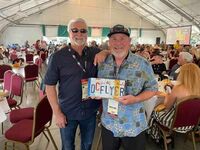 REACTIONS, just a few:
Gerrit Does
Great stuff hè Dave, did you tell Brad we were at the Luxembourg Grand Pric 500 cc early '80 s, you, Perry Kramer and me? Good times 👊🥳
Dave Clinton
Gerrit Does I did tell him about our trip.
Perry Kramer
Dude! You are and always will be top shelf. Awesome to see this bro.
Jon Hejda
Two Factory Kawasaki guys!
Todd Huffman
You were a great "dinner date" DC! ⁠
October 2021, Dale Holmes interviewed Tom Lynch

NEW Podcast Tom Lynch MBE -
While in the UK, I managed to record a couple of Podcasts. Last week while down in London, I met up and recorded the first one with Tom Lynch and the following week I will post the one I did with Keith Duly (Jump Club), both of which I really enjoyed doing.

Tom Lynch is one of the riders in the UK that inspired both me coming through the amateur ranks in the 80s and many others in the UK during his time, with his riding style and coming from behind for wins. If you were around who can forget in 1986 when Tom won the Superclass European Championship finals in Weiterstadt, Germany at just 16 years old against the Powerful Dutch Amev Team.
Tom shares his early days training and taking racing seriously at a young age, getting on Patterson and battling for the UK titles in probably one of the hardest UK age groups in history with the likes of Stu Diggens, Darren Wood, Whoppa Watkins, Steve Greaves, Lee Alexander, Dave Morris, Tim Print and the names go on. Tom talks about winning 15x at the 85 Euros in Spain fresh on Redline (Patterson frame with Redline stickers), going there with a plan, being in the zone and executing it and becoming the European Champion.

Tom talks Kelloggs, getting on Robinson and working with Tony Hoffman turning Superclass at an early age and changing teams to ASR. He battled the likes of Darrin Stock, Andy Welsh and a fresh and hungry Neal Wood when he turned Superclass. He also went up against the European talented riders from Xavier Redois, Eric Minozzi and the strong Dutch Superclass contingent.
Tom talks about getting on Haro racing, Mike King and then getting on Elf and turning racing more into fun as he transitioned to working as he headed into the 90s. We chat about LRP (London Rocket People) the Jive guys, riding with Will Smyth, Rom and early Backyard Jams.

Of course we talk about Tom working at the London Ambulance Service HQ in Waterloo (Cycle Team Hub) as a Cycle Response Unit Operations Officer and all about the programs. He deservingly received an MBE and meeting both the Queen and Prince Charles. Tom was the first official British Cycling BMX Coach. He shares the early days of the program with a young Shanaze Reade, Liam and Charlie Phillips, the Murray brothers, Joey Gough and so much more.
Check this out ......

https://www.bmxweekly.com/2021/10/podcast-tom-lynch-mbe/
pictures ......
1
November 1st. the story continues .......
More to follow..............................
history OF bmx, YEAR 2022.

Dear friends in BMX, as I stated before I am taking it more easy since 2021. On the internet and in th social media sector as well as Youtube there is so much to find on BMX in general, that I think the only additional input to the sport can be just my personal opinion on the development of the sport and NOT reproting on all events taken place.

I also will update the EUROPEAN BMX HALL of FAME up and till 2022 and no further. That's for new and younger enthousiasts to BMX specialist to do from 20223 on.

July 29th through 31st. the UCI BMX WORLD CHAMPIONSHIPS took place in Nantes - France. Here my report as I have seen it happen, looking from the OUTSIDE in.
Before the actual World Championship, the UCI BMX CHALLENGE event was run from July 18th through July 28th. 2022.
The highlight of this week of BMX was ofcourse the WORLD CHAMPIONSHIPS in Elite Women, Elite Men, Junior Women, Junior Men and .... for the first time at this level 2 new classes, being Women Under 23 and Men Uder 23. General remark on my part .... the BMX track looked great, was smooth maybe not as spectacular as before, but just cool to race on. As always at French top international BMX events, specialy on the main day where the semi's and final's are run, many OUTSIDE BMX spectators come and watch the racing (remembering Tours, Dyon and other events). Enthousiasm is at the TOP then, unique for France.

The semi finals and finals in all the classe mentioned were just great. I think I can say a NEW GENERATION has shown itself right here and then .... think among others of Maleine Sorensen - Denmark, Leo Garayan - France, Eddy Clerté - France, Julien Bijsterbosch - Holland, Jaymio Brink - Holland, Felicia Stencil - USA and Simon Marquart - Switzerland.
...