History of BMX (1988 - 1989)
YEAR 1988.
1988 - General developments:
Belgium: In 1987 and 1988 a working together relationship was established between the Belgium leading BMX organization, B.C.B. (Belgium Cyclo Federation) and Belgium FIAC/UCI affiliated organization K.B.W.B. (Royal Belgium Cycling Federation). However this cooperation never came really true this time. Both federations went their own way during 1988.
In Belgium the other existing BMX organizations. B.L.F. and V.B.F. seized to exist. The BMX organization active in the French speaking part of Belgium called F.BMX.B. also disappeared from the BMX scene.
Trialsin:
Trialsin has developed more in the past 2 years. Two World Championships have been organized and besides Spain and Germany, also France, Italy and Switzerland were very active now. Trialsin was developing in Canada and in the USA. Trialsin is promoted heavily at this very moment. Ot PI, the Overall 1987 World Champion Trialsin, is going to the USA for 3 months later on this year to perform and run schools/trialsin clinics together with National U.S.A. Champion Kevin Norton. The III UCI Trialsin World Championship will be a four round series in 1988: Round 1 in Spain on July 17th., Round 2 in France on July 24th., Round 4 in Germany on July 31st. and Round 4 in Belgium on August 7th.
Just to know how such an event was organized, I did go to the one in Belgium at Bilstain, which was very interesting. I also did meet for the first time with GT sponsored Hans Jorg REY (at the time Swiss Trialsin Champion). At the event there were riders present from the following countries: Spain, Belgium, Switzerland, France, Tjechoslowakia, USA, Andorra, Italy and Germany, overall around 170 participants.
Germany:
BDR (Bund Deutscher Radfahrer) and ADAC issued there 1988 BMC rulebook of which you can see the front cover here.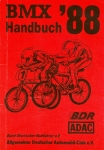 Hungary: In 1988 BMX was introduced in Hungary. The man who pioneered and promoted BMX in the early days of Hungarian BMX, was Mr. Ferenc Borbely, Veszprem - Hungary. The organization was the HUNGARIAN CYCLISTE FEDERATION, BMX Department. Their first official registered rider was Krisztian Borbely. The first bikes that were brought into the country were: Hutch, Schwinn - Czepel, Atala.

Factory team competition started in Hungary in 1992. The first team to win the National team competition in 1992 was: Schwinn-Csepel BMX Team Veszprem. The first ever BMX race in Hungary was organized on October 23rd. 1988 by Veszpremi Spartacus Sport Club in Veszprem. The Hungarian BMX organization applied for an affiliation with the I.BMX.F in 1990.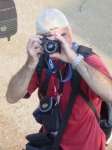 Latvia: BMX was introduced here and got organized in 1988 by Mr. Janis Silins and Mr. Aldons Vrublevskis. Mr. Silins got in contact with Gerrit Does after finding his address as General Secretary of the I.BMX.F. in the lybrary at the University for Sports in Moscou - USSR (early 1986). After a year of corresponding through the mail, Mr. Silins visited Gerrit Does in Waalre in 1988 for the first time. From there it all started. More on BMX developments in Latvia, look for November 27th. 1988 update down below. Picture here shows what BMX looked like in the beginning in Latvia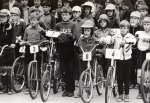 January 8th. During the annual K.N.W.U. presentation of cycling awards in Utrecht-Holland,
three Dutch BMX racers were presented with a special award by the Dutch National Olympic Committee, award was called the "Sportsupport Award". These riders received this trophy for the best results during the 1987 BMX season. The riders were: Anita van de Mortel, Bas de Bever and Marcel Mandigers.

January 9 -10th., the I.BMX.F. sanctioned International Indoor Leeuwarden-Holland tookplace.
Participation of riders from Denmark, England, Germany, Belgium, Austria, Switzerland and ofcourse Holland. Within the Denmark team a champion from Norway. Riders coming from Sweden and even Finland were present. Overall there were about 1000 entries.

January 26th. GD received a letter from the UCI-FIAC Trialsin-BMX committee written by its Trailsin coordinator Mr. Pedro PI from Spain.
The "St. Fietscross promotion Nederland" (S.F.N.) had applied for the organization of the IV World Championship of Trialsin to be held in 1989. Scheduled location: Ponypark Slagharen. Two more countries applied besides Holland: the USA and Canada. It was also confirmed that Belgiums Trialsin rider Christophe Winand would be present during the European Championship of BMX to be held at Ponypark Slagharen later on this year. This was to promote trialsin and therefore to give bicycle-trial demonstrations.

February 25-26th. The 4th International Indoor de Tours - France, I.BMX.F. sanctioned was a fact.

New BMX materials were tested and the 1988 teams presented.

Results of the Trophee des As:
1. Bas de Bever (NL)
2. Xavier Redois (F)
3. Yannick Delporte (F)
4. Claude Vuillemot (F)
5. Franck Chevreton (F)
6. Philippe Mangin (F)
7. David Kastler (F)
8. Luc Koehler (F).

*** foto Bas de Bever, indoor in France early 1988

April '89, a report in Aussie Action magazine on the important Australia BMX event called "Commonwealth Bank - A.B.M.X.A. Championships".

Attention, the above concerns 1989 (placed in year 1988, sorry!)

April 17th. International Indoor Göteborg - Sweden, I.BMX.F sanctioned.
I was invited by the Swedish BMX organizer/promoter at the time, Mr. Stefan Ekwall, to come over to Göteborg and bring 4 Dutch top BMX Racers, to give BMX demo's during a bicycle show, at an original BMX indoor dirt track. Together with Phil Hoogendoorn, Jan Hekman, Pierre van Zuylen and Ludy v.d. Werff we had a great time helping Stefan to promote BMX.
*** foto Indoor Götenborg, riders and track

April 30th - May 1st. I.BMX.F. European Championship round I, Weiterstadt - Germany,
Again a perfect organized event.
Results Superclass 20 inch:
1. David Kastler (F)
2. Xavier Redois (F)
3. Claude Vuillemot (F)
4. Franck Chevreton (F)
5. Gerard Heuver (NL)
6. Bas de Bever (NL)
7. Thomas Falter (G)
8. Jeffrey Bignell (NL)
Results Superclass 24 inch:
1. Eric Minozzi (F)
2. Xavier Redois (F)
3. Chris Wouters (B)
4. Nico Does (NL)
5. Bas de Bever (NL)
6. Gerard Centen (NL)
7. Claude Vuillemot (F)
8. Franck Chevreton (F)

May 13 - 15th. The I.BMX.F. European Challenge Cup V, at Ponypark Slagharen - Holland.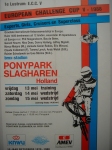 Around 1300 entries from 16 countries were present and they considered this years E.C.C. as a test for the upcoming European Championship to be held at the same track in about 2 months from this date.
*** foto Marco Meijers (42) leading Bas de Bever (45),
*** foto Gerard Centen (44) and Nico Does (41)
*** affiche E.C.C. 1988 Slagharen Holland
Results in Superclass 20":
1. Marco Meyers (NL)
2. Gerard Centen (NL)
3. Phil Hoogendoorn (NL)
4. Thomas Folter (NL)
5. Jeffrey Bignell (NL)
6. Bas de Bever (NL)
7. Tom Lynch (GB)
8. Nico Does (NL)
Results in Superclass 24":
1. Phil Hoogendoorn (NL)
2, Marco Meyers (NL)
3. Nico Does (NL)
4. Jeffrey Bignell (NL)
5. Kris Wouters (B)
6. Gerard Centen (NL)
7. Thorsten Beinke (G)
8. Gerard Heuver (NL)

May 21-22rd., the I.BMX.F. European Championship round II, Montgeron - France
Info will follow later.

June 25-26th., the I.BMX.F European Championship round III, Rainham - England.
Info will follow later.
*** foto The 1988 English New Wave Tom Lynch-Haro, Ron Stobart-Hutch, Darren O'Neil-ASR,
Dale Holmes-Cycle Craft 16 years old at the time, Clive Gosling-Revcore

July '88 an article in Aussie Action magazine on an event in Ipswich - Australia as kind of warming up,
for the I.BMX.F. Worlds to take place in Brisbane the following year. Several top riders from different countries were invited by the Ipswich and West Morton BMX Club Inc. Present were Gary Ellis - USA, Andy Ruffell - England and Kengo Inoue - Japan. Keith Brennan, secretary of the Ipswich BMX club was also very happy with the presents of a founder member of the I.BMX.F., Mr. Tadashi (Ted) Inoue from Japan. The event was a great success.

July 2-3rd., the I.BMX.F. European Championship round IV, Houthalen - Belgium
Info will follow later.

July 8th-10th., the Open I.BMX.F. European Championship of BMX at Ponypark Slagharen - Holland.
This was the 2nd time a European Championship took place in Holland (first time in 1982 at Beek & Donk). Besides the actual racing, at Slagharen always a side program was organised. There were the following activities:
- Demo FreeStyle riding by FreeStyle Team "THE MAD DOGS" from France.
Location for this demo was in front of the so-called Donald Duck hall.
- Demo Formula ONE racing, location also in front of the Donald Duck hall.
- Demo All Terrain Bikes (ATB/MTB). These demo's were given at the BMX Stadium.
- Demo Trialsin (bicycle trial) at the BMX Stadium.
- Demo FreeStyle Ski by the "Coca-Cola Ski FreeStyle Team
Participation from 14 countries
Total number of Pre-entries 1575
Final number of entries 1141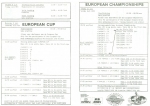 Country Superclass - Experts - Cruisers - Girls
Holland 24 77 50 55
Belgium 11 54 19 8
England 17 94 27 33
France 14 87 39 22
W-Germany 17 97 21 34
Denmark - 62 5 16
Italy - 35 2 5
Switzerland 2 45 12 10
Austria - 40 7 2
Norway - 20 7 3
Sweden - 22 2 1
Scotland 6 30 3 84

This is just to mention a few.
Saturday Euro CUP, riders in the ages up and till 11 years.
Sunday European Championship, riders in classes 12 years and over.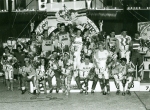 RESULTS:

Final Superclass 20 inch: Final Superclass 24 inch:
1. Eric Minozzi France 1. Frank Chevreton France
2. Bas de Bever Holland 2. Bas de Bever Holland
3. Phil Hoogendoorn Holland 3. Phil Hoogendoorn Holland
4. Tom Lynch England 4. Claude Vuillemot France
5. Winnie Wright England 5. Nico Does Holland
6. Frank Chevreton France 6. Kris Wouters Holland
7. Xavier Redois France 7. Gerard Heuver Holland
8. Gerard Centen Holland 8. Xavier Redois France

B-Final Superclass 20": B-Final Superclass 24":
1. David Kasler France 1. Gerard Centen Holland
2. Nico Does Holland 2. Eric Minozzi France
3. Gerard Heuver Holland 3. Jeffrey Bignell Holland
4. Claude Vuillemot France 4. Ralf Mauritz Germany
5. Uwe Sturm Germany 5. David Kastler France
6. Jean Francois Lalli France 6. Robin Mason England
7. Thorsten Beinke Germany 7. Marcel van Rossum Holland
8. Markus Grieck Germany 8. Markus Stöckel Germany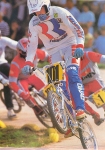 The
overall results

in European Championship Superclass after 5 events.

Superclass 20 inch: Superclass 24 inch:
1. Eric Minozzi France 1. Bas de Bever Holland
2. Xavier Redois France 2. Eric Minozzi France
3. Franck Chevreton France 3. Franck Chevreton France
4. Phil Hoogendoorn Holland 4. Gerard Centen Holland
5. Bas de Bever Holland 5. Kris Wouters België
6. Gerard Centen Holland 6. Xavier Redois France
7. Claude Vuillemot France 7. Claude Vuillemot France
8. David Kastler France 8. Gerard Heuver Holland

9. Tom Lynch England 9. Marco Meijers Holland
10. Gerard Heuver Holland 10. Phil Hoogendoorn Holland
11. Kris Wouters België 11. Nico Does Holland
12. Thomas Falter Germany 12. Jeffrey Bignell Holland
13. Jeffrey Bignell Holland
14. Marco Meijers Holland
15. Nico Does Holland
16. Tim Schneider Germany

Results on the day in:
Superclass 20 inch Trophy: Superclass 24 inch Trophy:
1. Gerard Centen Holland 1. Marco Meijers Holland
2. Thomas Falter Germany 2. Jeffrey Bignell Holland
3. Tom Lynch England 3. Gerard Centen England
4. Phil Hoogendoorn Holland 4. Robin Mason England
5. Winnie Wright England 5. Thorsten Beinke Germany
6. Robin Mason England 6. Martijn Kloppenburg Holland
7. Marcel van Rossum Holland 7. Narcel van Rossum Holland
8. Marco Meijers Holland 8. Uwe Sturm Germany

Girls 7: Girls 8:
1. Caroline de Bruin Holland 1. Angelina Venema Holland
2. Melanie Iane England 2. Mirella van Melis Holland
3. Rinn Tokkens Holland 3. Femmy Akkerman Holland
4. Carla Gotto France 4. Judith Beentjes Holland
5. Engela Robinson England 5. Carley Meyern England
6. Rikke Rasmussen Germany 6. Marit Gystol Norway
7. Jolanda Nachtegeller Holland 7. Shrihatie Vermeulen Holland
8. Steffi Kierzek Germany 8. Pamela Schäfer Germany

Girls 9: Girls 10:
1. Henriëtte Trip Holland 1. Margie Geluk Holland
2. Debbie Nabuurd Holland 2. Sabine Schoenmakers Holland
3. Clair Wood Scotland 3. Daniëlle Dikkeboom Holland
4. Gedy van den Aker Holland 4. Samanta Gilis England
5. Gabriëlle Bidet France 5. Jolanda Oosten Holland
6. Natascha Graf Germany 6. Pamela Jahn Germany
7. Daniëlle Klijnstra Holland 7. Stefanie Lüthje Germany
8. Ute Schäfer Germany 8. Michelle Richmond Scotland

Girls 11: Girls 12:
1. Charline Serres France 1. Karien Gubbels Holland
2. Monique Hofmans Holland 2. Adele Groxon England
3. Mariëlle Bogers Holland 3. Ingrid Oosting Holland
4. Bianca ter Wiel Holland 4. Svenja Butner Holland
5. Kerie Hopkins England 5. Natasha Massop Holland
6. Elma Knop Holland 6. Annette v.d. Maat Holland
7. Gabriële Pintal Germany 7. Cecile Frayssinet France
8. Michelle Chenery England 8. Sarah King England

Girls 13: Girls 14:
1. Daniëlle Ermers Holland 1. Corine Dorland Holland
2. Arietta Minnema Holland 2. Christelle le Saout France
3. Brendea de Boer Holland 3. Patricia Staphorst Holland
4. Anita de Castro France 4. Tina Madsen Denmark
5. Valerie Lassauer France 5. Clair Edwards England
6. Patricia van Elst Holland 6. Arenda Slooyer Holland
7. Brigitte Hansen Denmark 7. Astrid Veraart Holland
8. Hilde Vandervec Belgium 8. Dianna Bonnants Holland

Girls 15: Girls 16 & Over:
1. Shakira Mols Holland 1. Melanie van Deene Holland
2. Chantal Cnaeps Belgium 2. Luli Adeyemo England
3. Angelika Stolle Germany 3. Marsha Blanker Holland
4. Linda Schroyen Belgium 4. Miranda Mulders Holland
5. Delphine Breilatt France 5. Heidi Kelders Holland
6. Karin Welten Holland 6. Erica Verhoeven Holland
7. Lisa Wright England 7. Martine v.d. Lievenogen Holland
8. Karin Dieterich Germany 8. Anita v.d. Mortel Holland

Experts 6: Experts 7:
1. Brad Anderson England 1. Daniël Worthington England
2. Michael Dymarz Germany 2. Julien Hervio France
3. Ben Allison England 3. Stephen Murray England
4. Olav Sven Redl Austria 4. Maikel v. Laarhoven Holland
5. Ian Watson Scotland 5. Jurgen van Loocke Belgium
6. Danny Slater England 6. Jason Lillebo Germany
7. Maik Heupel Germany 7. Sven Nef Switserland
8. Bernhard Schachner Austria 8. Simon Johnston England

Experts 8: Experts 9:
1. Regis Oliviera France 1. Mark de Bruin Holland
2. Bas Weijers Holland 2. Lee Bertram England
3. Fraser Watson Scotland 3. Peter Holland England
4. Michel v.d. Brink Holland 4. Scot Beaumont England
5. David Coleman England 5. Frederic King France
6. Arnaud Bartelemy France 6. Chris Hijde England
7. Sam Stobart England 7. Cederic Cracia France
8. Kim Moldrup Denmark 8. Robert Fokkens Holland

Experts 10: Experts 11:
1. Henny Kuipers Holland 1. Mark van Leur Holland
2. Florent Poussin France 2. Matthew Boyle England
3. David Maw England 3. Toine Schipper Holland
4. Martijn Sietsma Holland 4. Garry Smith England
5. Mark Harper England 5. Rainer Gerdes Germany
6. Dan Jensen Denmark 6. Nick Gill England
7. Robert de Wilde Holland 7. Mandfred Thoma Austria
8. Gary O'Brien England 8. Christophe Tricard France

Experts 12: Experts 13:
1. Daniël Levy Holland 1. Dylan Clayton England
2. Robert Sprokholt Holland 2. Jeroen van Nuil Holland
3. Mark vab Gerwen Holland 3. Michael Urannie Holland
4. Jurgen van Dijk Holland 4. Iwan Thomas England
5. Fabién Besquet France 5. Leon Eggens Holland
6. Andrew Please England 6. Lee Ives England
7. Bert Warmelink Holland 7. Piet van Brummelen Holland
8. Patrick Chen Holland 8. Pieter Breddels Holland

Experts 14: Experts 15:
1. Joe Eastwood England 1. Anthony Revell England
2. Markus Hörmann Austria 2. Jurgen van Melis Holland
3. Denis Casamatta France 3. Willem Strijker Holland
4. René van Gilst Holland 4. Kris van de Voorde Belgium
5, Clement Geurts Holland 5. Bas de Bie Holland
6. Maurice Hamsink Holland 6. Denis Labigang France
7. Michael Bont Swizerland 7. Marc Wenting Holland
8. Michel Frutiger Switzerland 8. Jean René Garnier France

Experts 16: Experts 17 & Over:
1. Rob Bulten Holland 1. Wilco Groenendaal Holland
2. Jörg Jahn Germany 2. Martijn v.d. Bogaard Holland
3. Jeff Dovey England 3. Mark van Driel Holland
4. Philippe Guemet France 4. Jorg de Louw Holland
5. Ian Archibald Scotland 5. Oliver Kienzle Germany
6. Matthias Kallage Germany 6. Frederic Scalvinoni France
7. Dale Holmes England 7. Arjan v.d. Groenendaal Holland
8. Nicolas Preneau France 8. Fabrice Vettoretti France


Cruiser 13 & Under: Cruiser 14/15:
1. Pieter Breddels Holland 1. Jürgen van Melis Holland
2. Jeroen van Nuil Holland 2. Antony Revell England
3. Onno Stürme Holland 3. Marc Wentink Holland
4. Nick Lacey England 4. Willem Strijker Holland
5. Jan Baltzersen Germany 5. James Gandin France
6. Michel Urannie Holland 6. AlexanderBohnenstengel Ger.
7. Paul Flavin England 7. Jerone v. Summeren Holland
8. Cedric Bouleau France 8. Laurent Rougemont France

Cruiser 16/17: Cruiser 18/24:
1. Gerben Dorland Holland 1. Emmanuel Rodriguez France
2. Dale Holmes England 2. Oliver Kienzle Germany
3. Heiko Hirzbruch Germany 3. Imco Mike Gerrits Holland
4. Xavier Robleda France 4. Lars Bonse Germany
5. Roderic Neri Switzerland 5. Stephane Balance France
6. Nicolas Leneau France 6. Frederic Scalvino France
7. Ryan Ledebür Holland 7. Christophe Boul France
8. Rob Bulten Holland 8. Emmanuel Beulque France

Cruiser 25/39: Cruiser 40 & Over:
1. Eddy Sienöt Holland 1. Thor Magnus Myklebust Norway
2. Eduard Cardier France 2. Jan Willemsen Holland
3. Ronald de Visser Holland 3. Roger Adams England
4. Jaques Hervagault France 4. Christian Manders Holland
5. Karl Herrling Germany 5. Leo Adriaans Holland
6. Jean Luc Ferrari France 6. Rob Geluk Holland
7. Peter Stiphout Holland 7. Frank Verheye Belgium
8. Gerard Soucaze France 8. Floor Rikaart Holland

xxxx Pictures Europeans 1988 Slagharen
CELEBRATION 10 YEARS of BMX in HOLLAND (1978-1988).
During this 1988 ECC a special reunion took place on Saturday evening July 9th. Invited were representatives from countries present as well as former Dutch BMX racers, organizers and others. Special invitations for Louis Vrijdag and Gerrit Does, both men got BMX organized under the S.F.N. (Stichting Fietscross Nederland) in 1978. Also the President of the I.BMX.F. at that time, Mr. Ross Fisher was invited and arrrived at Ponypark Slagharen earlier that day to witness this celebration. Abe Schneider, a Board of Director member also from Australia, arrived together with Ross Fisher.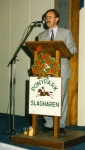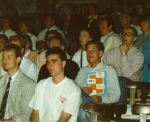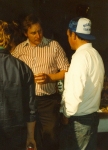 Overall 250 people were present during this happening, speeches were given, video and slides shown. Several people who had done a lot for BMX in the early days (pioneers), were honored. During the weekend BMX Freestyle demo's were given and Dutch VERONICA TV station made a special program and broadcasted Nation wide later on.
The pictures above do have a texst written on them when you open the picture. 10 years of BMX in Holland and Europe, many more exiting years of development to come. See you all at the 25th anniversary of BMX!
July. Ending July Gerrit Does visited the NBL office at Pompano Beach - Florida, USA and met with his friend Mr. George E. Esser.
Both men visited Chuck Robinson (of Robinson Racing) who was living close to were the NBL office was at the time. The three of us discussed international BMX developments.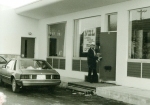 August 4th., the story on the FIAC BMX Worlds ánd
August 7th. the story on the FIAC Trial Worlds, ..............
are placed/published after the report on the I.BMX.F. Worlds of Chile of August 13-14th.

August 13-14th., the 7th. I.BMX.F World Championship in Santiago de Chile - Chile.
This around 5000 km long and 220 km wide country with at the time around 5 million inhabitants was the host of this worlds. The track was laid down in a velodrome, called "El Velodromo del Estadio Nacional" and situated in the west part of the city. This stadium could holt 10.000 spectators. Due to bad weather and the length of the track, conditions were very hard for the riders, specially on Saturday. The track turned into a mud bath. In total there were around 1.000 entries representing 15 countries worldwide.
Here an article in BMX Plus of December 1988 on what they thought about 2 seperate World Championships, one in Santiago - Chile by the I.BMX.F. and one in Mol - Belgium by the amature devision of the UCI, FIAC.

World titles won by the following riders in the classes listed:

Superclass 20": Pro Class 20":
1. David Kastler (F) 1. Gary Ellis (USA)
2. Bas de Bever (NL) 2. Mike king (USA)
3. Xavier Redois (F) 3. Greg Hill (USA)
4. Markus Rutz (CH) 4. Charles Townsend (USA)
5. Marcelo Vilches (Chile) 5. Todd Blaser (USA)
6. Phil Hoogendoorn (NL) 6. Rick Palmer (USA)
7. Claude Vuillemot (F) 7. Craig Selbert (USA)
8. Christophe Berthiaud (F)

Cruiser classes
13 y: Luis Oviedo (Chile)
14/15 y: Justin Green (USA)
16/17 y: Rob Bulten (NL)
18/24 y: Daniel Rojas (Chili)
25/39 y: Theo Peeters (NL)
40+ y: Germain Stolzenbach (Chile)

Girls classes
7 & under: Eugenia Grandia (Arg)
8-9y: Liliana Rodriques (Chile)
10 y: Jaclyn Wilson (Aus)
11 y: Agna Muller (Arg)
12 y: Cristiane Conceicao (Brasil)
13 y: Karien Gubbels (NL)
14/15 y: Corine Dorland (NL)
16 y: Anita v.d. Mortel (NL)

Experts classes
6 & under: Gerardo Gonzales (Ven)
7 y: Winderson Nielsen (Bra)
8 y: Cesar Santos (Bra)
9 y: Sebastian Garacia (Arg)
11 y: Joaquin Ramolto (Chile)
12 y: Daniel Sprague (Aus)
13 y: Luis Oviedo (Chile)
14 y: Justin Green (USA)
15 y: John Purse (USA)
16 y: Todd Lyons (USA)
17 y: Ruy Barbosa (Chile)
18+: Daniel Rojas (Chile)
National Team Trophy results:
1. Team Chile 386 points
2. Team Holland 378 points
3. Team Brazil 350 points
Courtesy pictures, BMX Action Magazine.
Also Pre-titles events were organized on Sunday 7th. and Tuesday 9th. of August. The Pre event on the 7th.was organized on the Worlds track and the event on the 9th. took place in a southern town called "Vino Del Mar". This track was excellent with some very radical jumps, the organization however was very poor. The days had its origins in confusion and its termination in controversy.

Communication was a key-word. The general conclusion of the foreigners present (riders, parents and supporters) was, that all in all, the Worlds was a very congenial meeting and the Chilean Bicicross Association could not have done more to make everybody feel welcome. It was said that all riders and parents enjoyed their stay and were pleasantly surprised at the relaxed atmosphere of the city.

August 4th., the 4th. F.I.A.C.- BMX World Championships took place in Mol (Zilvermeer), Belgium.
Under very bad weather conditions this WC took place: it rained and it was cold. The overall organization was of a poor quality and the track, laid down only for this worlds, was inferior. Only about 850 riders were present and around 12 countries. John Ker (USA) of BMX Plus was present a s well as Steve Giberson of Super BMX. Both had to report on a very poor organized FIAC Worlds. The organizer responsible was Mr. Armand Blondiau from Belgium, who was first affiliated with the I.BMX.F and later on joined the FIAC with his Belgium BMX organization FBB. In Superclass no top riders from Holland because the KNWU was I.BMX.F. affiliated and did not sent any riders to Belgium, instead a National team went to Chili. The French did sent delegations to both events. Here in Mol were among others Franck Roman, P.H. Sauze, Siffert, Portmann, Hetmanczyk e.o. From Germany, Uwe Sturm, Thomas Falter, Stromberg, Hirzbruch. The NBL-USA did sent Shelby James, Mc.Culloch, Sterious, De Backer, Hatfield. 26 finales were held, here some results:

Results Superclass 20": Girls 17:
1. Franck Roman (F) 1. Shauna Godber (GBR)
2. Eric Phillippart (USA) 2. Susanne Kroch (GER)
3. Anthony Howells (GB) 3. Simone Mintrop (GER)
4. Thomas Falter (D) 4. Silke Tethen (CAN)
5. Uwe Sturm (D) 5. S.C. Picard (CAN)
6. Kim Carbut (GBR) 6. Diana Vrieze (NED)
7. Thorsten Beinke (GER) 7. Marleen Smeyers (BEL)
8. Stefano Miglionni (I) 8. ---

Overall results of the FIAC BMX World Championships 1988 in Mol - Belgium: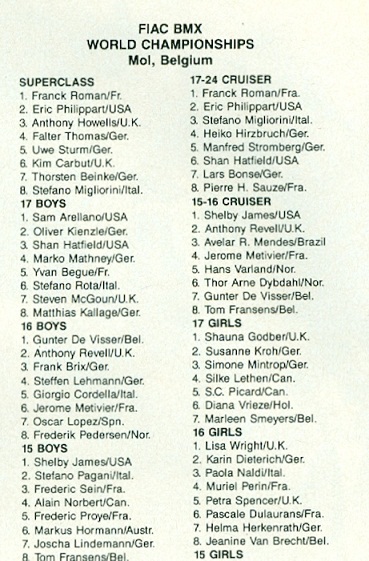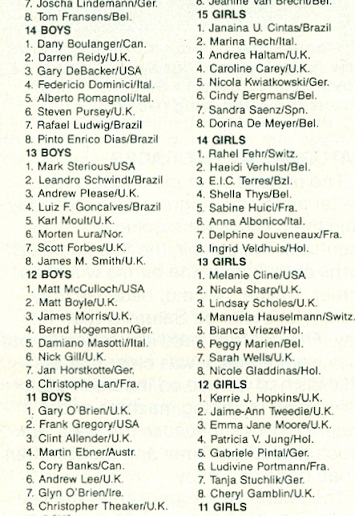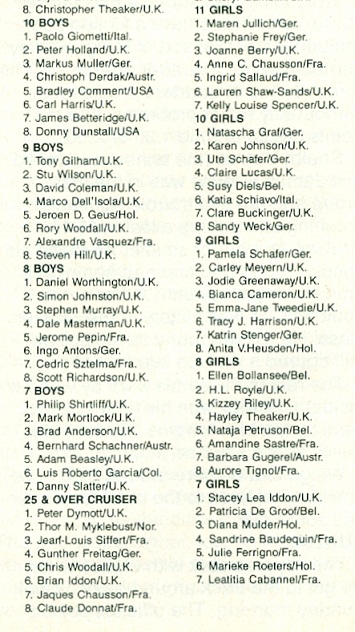 Note by Gerrit Does: Personaly I did find it very disturbing that some original founder members of I.BMX.F. took the advantage of not only racing the I.BMX.F. Worlds, but also the FIAC Words.This attitude would undermine the authority of the first and original BMX (race) world wide organisation, the I.BMX.F., the specialists in organizing BMX events. At the time and over time it was the NBL that went back and forward, what was a big disappointed to me.

August 7th. The 3rd. FIAC World Championship bicycle-trial took place at Bilstain - Belgium.
Famous names at the time: Hans Jorg REY - CH (still active today - 2001), Frederic Crosset - B, Gille Combe - F, Andreas Kromer - D, Ot PI - E (still active today - 2001), Joseph Ribera - E, Kroyama Kenischi - Japan, Christophe Winand - B and Daniel Crosset - B. In total around 150 riders took part from 10 countries (Spain, Belgium, France, Germany, Switzerland, Italy, Czech Republic, USA (2 riders), Andorra, Japan (1 rider).
September 16th - 22th. Janis Silins - Latvia, visited Gerrit Does to learn more about BMX.
First communication with Mr. Janis Silins from Latvia - USSR, was through writing in 1987 (check History of BMX year 1987 for details). This former cycling coach wanted to start a BMX organisation in Latvia together with Mr. Aldons Vrublevskis. To orientate himself he wanted to come to Holland and we both made arrangements for a meeting. At the time Latvia was still part of the USSR and the Iron curtain was still in place. So official invitations had to be sent and approved by the Russian Ambassy etc.etc. A lot went wrong during Janis Silins' first trip and one of the problems was a delay by train because of which Mr. Silins arrived one day later then scheduled.
After arriving by train in Amsterdam, Janis took the train to Eindhoven and from there by bus to Motel Eindhoven, which Motel is located about 1 km from my house in Waalre. That evening, Friday September 16th. we met for the first time at Motel Eindhoven. After 2 days at the Motel, I invited Janis to stay at our house as a guest. We talked BMX for hours and planned some trip to actualy watch BMX racing and meeting poeple. On Sunday we went to a Dutch National Championship event in Oss near 's Hertogenbosch. Janis learned a lot there and also did meet with Frans Dumaine (r.i.p.) the actual chairman of the BMX Committee KNWU at the time.
Next day, Monday September 19th., we travelled to Ponypark Slagharen, to chekc out the BMX track on the grounds of the park. Also the park itself was exploired. Diner at Hotel "de Bonte Wever" Slaghren that night.
On Tuesday we left Slagharen for Waalre. Again we talked "BMX", I showed pictures, video's, magazines on BMX, explained all about organizing an event, handed out rulebooks (KNWU and I.BMX.F.) etc. On Wednesday we had an appointment with the Mayor of Waalre, did some shopping in the city of Eindhoven, what became an eye opener for Mr. Silins. So many articles for sale that weren't available in Latvia at the time. We also had to visit the local Police to get a special stamp on his visa, proving Mr. Silins has been in Waalre !
We also had an appiontment with Mr. Gerrit Middag of the KNWU, so went to Woerden to the headoffice of the KNWU and on our way we did some sightseeing.
On Thursday we went back to the East part of our country. I dropped Janis Silins off at the Hengelo railwaystation from which he returned through Cologne and Berlin, to Lativa. All in all a fantastic experience for Mr. Silins as well as for myself. Learned a lot about the Baltic States, about Latvia, about politics and history of Latvia.
From here on it all started in Latvia and who could have imagined that exactly 20 years later, at the 2008 Olympics in Beijing - China, Latvian BMX'er Maris Strombergs would win the first ever Gold medal in BMX! I am so honoured to have been a small part in this success of Latvian BMX.

September 24-25th. I.BMX.F. International Indoor event at Cologne - Germany during the IFMA Bicycle and motorcycle show.
*** foto Indoor Cologne IFMA



October developments:
October this year the official announcement was made that Mr. Frank Verspaandonk (Holland), a well respected international active chief scorer and leading man during the E.C.C. Slagharen events, had to stop with all of his BMX activities due to health problems. This was a great loss for Dutch National, but also European BMX.

October of this year Mr. Janis Silins from Latvia, the man who introduced BMX in his country and with whom I had an intensive correspondence for almost 2 years, finally came over to Holland for the experience BMX life. Also this year Janis got an official organization off the ground and organized the first ever BMX races in his country.

November, the W.B.F. - World Bicycle Federation survey,
November
was the month that GD took the initiative to investigate if there was any interest in starting a new world-wide BMX organization called the
W.B.F.- World Bicycle Federation
. Motivation to take this action was the fact that he was not happy with how things were going between I.BMX.F and UCI/FIAC. The general idea was to start an organization were the riders could become a member directly and not through a National organization. The center of things would have been Europe and the USA in the first place. Late on activities could move to other continents.

November, the 6th. I.BMX.F. Bicross International de PARIS BERCY - France.
600 selected riders took part in this prestigious event. For the first time a so-called "Trophee des Nations" was organized. 32 riders from 8 different countries competed against each other for this Masters trophy. Holland did win with 20 points, the USA finished second with 26th points and France finished 3rd with 55 points. The Dutch teammembers were: Phil Hoogendoorn, Wilco Groenendaal, Marco Meyers and Gerben Dorland.
The results in Masters class for the "Trophee des Nations" were:
1. Phil Hoogendoorn (NL),
2. Wilco Groenendaal (NL),
3. Claude Vuillemot (F),
4. Mike King (USA),
5. Todd Corbit (USA),
6. David Kastler (F),
7. Gerben Dorland (NL),
8. Charlie Townsend (USA).
Superclass 20 inch results:
1. Rick Palmer (USA),
2. Eric Carter (USA),
3. Bas de Bever (NL),
4. Gerard Centen (NL),
5. Dale Holmes (GB),
6. Philippe Bey (F),
7. Emmanuel Beulque (F),
8. Franck Chevreton (F).
Rick Palmer was crowned KING of BERCY 1988.
Pro race 20 inch results:
1. Mike King,
2. Rick Palmer,
3. Billy Griggs,
4. Travis Chipres,
5. Chris Moeller,
6. Charles Townsend,
7. Todd Corbit and
8. Gary Ellis.
All riders from the USA.
Over 10.000 people watched these events and racing was televised life on French TV.
Check out this video on the 1988 Bercy event .................https://www.youtube.com/watch?v=CGtUVty_cTA

November 11th. GD did meet with Mr. Bolle of the Belgium Cycling Federation and Mr. Crosset of the UCI Trialsin Committee at Ponypark Slagharen,
in order the establish whether the criteria could be met to holt a Trialsin Worlds at Ponypark Slagharen. The final conclusion was negative. All parties agreed not to have a round for the 1989 trials Worlds at Slagharen.

November 27th., the Latvain BMX Federation was officialy founded in Riga - Latvia.
Driving forces behind getting BMX off the ground in Latvia were Mr. Janis Silins and Mr. Aldons Vrublevskis. Mr. Silins contact Gerrit Does by mail on December 17th 1986 and asked him for detailed information on rules, regulations of the I.BMX.F., FIAC and KNWU. From then on a close working together relationship started with both Mr. Silins and Mr. Vrublevskis. Gerrit Does acted as advisor and soon the Latvian BMX Federation also would become a member of the I.BMX.F. That was a very important step in developing the sport of BMX ánd important to the Latvian Olympic Committee of which organisation Mr. Vrublevskis became the General Secretary.

Seen here some picture from the actual start of BMX in Latvia.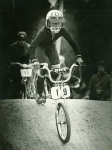 November 30th. 1988, AMEV announced their withdrawel of sponsoring the Dutch National Section of BMX.
After 3 years of sponsoring with budgets of about 90.000 Dutch Florins per year, AMEV announced their withdrawel of the KNWU National BMX Selection.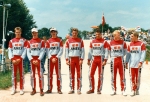 Sponsoring was taken over by Metaalbedrijf BUSSCHERS.
Mr. Fons Busschers, ceo of Metaalbedrijf Busschers in Haaksbergen-Holland, became the new main sponsor of the KNWU National BMX Selection for 1989 through 1991.
xxx foto Busschers.

General information/devlopments in BMX.
Again the number of licenses went down in Holland. The downwards trend was typical for all European countries. 2875 licenses in 1987, only 2001 in 1988! In total 63 BMX events were organized in Holland.
The S.F.N. (Stichting Fietscross promotie Nederland) by Gerrit Does started to organise ATB/MTB events for the first time, here in Holland in the South of our country. This activity was continued in 1989, read on and see pictures. Later on the KNWU (Royal Dutch Cycling Federation) took over.



YEAR 1989.
Developments:
Belgium: During this year the Belgium BMX organization affiliated with the I.BMX.F. called B.C.B. seized to exist after 10 years of existence. The active board since the start in 1979, retired and the activities were adopted by Mr. Michel Lemal living in the Brussels area. Michel was also active as speaker during main BMX events in Europe, among others the E.C.C. in Slagharen (that's were he started out as speaker and became famous). Lemal restarted the organization but now under a new name called B.BMX.F. (Belgium BMX Federation). This organization stayed active up and till the year 1992.

January of this year Gerrit Does received the results of a survey among BMX riders and BMX organizations world wide,
to find out if their was any ground for starting a new "only BMX" world-wide BMX organization, called the: W.B.F. - World BMX Federation. Many people weren't happy with the involvement of FIAC / UCI in BMX. It appears that the main problem to start a new organization was financing this prestigious project, because it wanted to go al the way and therefore start at a professional level from the beginning. In June 1989 a letter had to be sent to inform all those who took part in the survey, that it was not realistic at the time to start a new organization.

January 1st. The A.F.B. (Association Francaise de Bicicrossing)- France,
affiliated to the I.BMX.F., started a working together relationship with the French 10 speed federation, the F.F.C. (Federation Francaise de Cyclisme).

January 7 - 8th. International Indoor Leeuwarden - Holland, I.BMX.F. sanctioned.
Number of entries: 550. Info will follow.

January 16th. On request of several people from the bicycle industry in Holland, GD took the initiative of getting organized MTB/ATB riding off the ground in Holland.
It was again the S.F.N. - Waalre, run by Gerrit Does, that took the initiative to get ATB/MTB organised in Holland. In 1988 several "test ATB" event were run in a "enduro" (motorsport type) setting. The first official enduro type event on all terrain / mountain bikes was scheduled to take place on January 29th 1989, location BMX track E.W.F.V. Waalre in Holland. Later on races were scheduled in the city of Breda in the south and Collendoorn in the eastern part of our country. Last but not least an event took place in Assen in the north of our country. This serie of events was called the "War of the Stars" ATB serie. Seen here the flip-over paper of the first instruction meeting, explaining the event.
Also the names of the first riders in the several classes mentioned. The trail was about 2 till 4 km long and had to be covered around 10 till 15 times. The race itself was scheduled to take about 60 / 90 minutes. Also a Relay-race was part of this event as well as an individual 100 meter sprint in which the fastest time did win ofcourse etc. Also a brake test was part of the event. At the time it was more a motorcycle type endure on bicycles.
I am sorry to say, but I don't have any pictures of the meeting in Waalre. Shown below pictures taken in Breda, Collendoorn and Assen, just to give you all an impression. First three picture are made during the Breda event. Out of the 4 "try-out" events, this one had the most entries. On that day 2 seperate events took place, an enduro race (all riders had to complete around 10 laps on the 2.5 km track around a small lake. The second event was a team relay-race. A team consisted of at least 4 riders of which each of them had to do one lap at top speed and after finishing, the next rider went on, etc. Four teams on the starting line.
On the next pictures of the Collendoorn event, you see a track layed-out in the Ponypark City recreation park (was still closed for public at the time, opened 2 months later). This was an about 1.5 km track with a lot of turns and technical stuff. Around 30 laps had to be completed and also here a team relay-race took place.
Last race in these series took place in Assen around the BMX track located overthere.
This is how ATB races started and since those 4 events were a great success, the KNWU (Royal Dutch Cycling Federation) took over very quickly and started organising events in 1990. My work was done and I went on in BMX developing. Here an article in one of the leading bicycle magazines in Holland, called "FIETS", on the first developments of ATB being organized in Holland.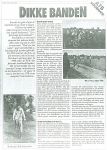 January 20th. I received a letter from the Australian BMX Association signed by Julie Hays, President of the Australian BMX Association (Inc.),
officialy inviting me to attend the 1989 I.BMX.F. World Championships in my capacity as a Life Founder Member - I.BMX.F. Up till this day (2009 updated) this organization has been the ONLY one inviting one or more of the original founders and life members of I.BMX.F. to attend an I.BMX.F. or now a UCI World Championship. Thanks very much for the respect you showed us with this invitation Julie !
February. In England, the UK BMX Association (I.BMX.F. affiliated) and the British BMX Association (B.BMX.A.) made an agreement to amalgamate.
As a result of the amalgamation the new association will continue working under the name of "English Bicycle Association (EBA). Final amalgamation was scheduled to take place in November of this year.

February 2nd. Foundation of the "Confederacao Brasileira de Bicicross - CBB". The founding organizations of this confederation were:
Federacao Paulista de Bicicross; Federacao Paranaense de Bicicross and the Federacao Mineira de Bicicross.

The persons mentioned as founder members were:
- Alvaro Paulo Ferreira Franco,
- Alex Tadeu do Amaral Ribeiro,
- Rogerio Fernando de Lima,
- Mikyia Fugita,
- Nilceu Saito,
- Genilda de Sao Jose Franco,
- Fabiano France and
- Acyr de Lima.
As first president was elected Mr. Nilceu Saito.
Some time later this year a BMX magazine was issued and articles appear in bicycle magazines in Mexico. Two of those shown below.

February 4-5th. International I.BMX.F. Indoor in the City of Houthalen - Belgium.
Number of entries: 319. Info will follow.

February 25-26th. The 5th I.BMX.F. sanctioned International Indoor de Tours - France.
Total number of entries was 760. The competition called "Trophee des As" did have 64 entries, double the number of entries of 1988. This invitation race did have around 50 entries from Superclass and around 14 best of the 16 & over expert class. As always, many outside BMX people from the city of Tours came and watched the racing. Around 6000 spectators were present, most of them arrived around noon.
This also was the first event organized under the AFB - FFC combination. Total amount of price money to be won was 25.000 ff. Speaker at this event was Michel Lemal.
Results of the main event Trophee des As:
1. Xavier Redois - (F)
2. Jurgen van Melis - (NL)
3. Rob Bulten - (NL)
4. Bas de Bever - (NL)
5. Frank Chevreton - (F)
6. Eric Minozzi - (F)
7. Frederic Scalvinoni - (F)
8. Phil Hoogendoorn - (NL)
(In dollars first price was $ 1,250 second won $ 850 and third price was $ 550).

March/April. Representatives from I.BMX.F. and FIAC met twice this year in Brussels (Belgium).
Within Europe it was felt that pressure from FIAC on I.BMX.F. affiliates was less than in the years before. Since 1982/83 FIAC has been active in the field of BMX and talks to work together with I.BMX.F. were going on for several years now. However, not much happened: too much talk, too less action, a political and power play strategy had developed.

April 16th. I.BMX.F. European Championship round I, Superclass Bettancourt - France. In total there were 621 entries.

April 30th. I.BMX.F. European Championship round II, Pozzaglio - Italy. Race was cancelled!

May 19-22st. I.BMX.F. European Challenge Cup VI, including the 2nd round of the European Championship Superclass at Slagharen - Holland.

Final number of entries 1458: Holland 667 entries, Belgium - 87, England -130, Germany - 235, France - 185, Denmark - 43, Norway - 20, Switzerland - 25, Sweden - 38, Spain - 8, Austria - 9, Latvia - 7 and Scotland 4 entries. 13 countries were represented during this true international event. For the first time ever, riders from Latvia took part in this event. Their participation got special publicity in Holland's largest Daily newspaper "The Telegraph". Around 12 years later, in 2001, 2 riders participating at this event as young boys of about 7 years old, were Europe's best Elite men riders, Janis Vanags and Ivo Lakucs, nr. 2 at the Louisville Worlds this year (2001) in Elite men's class.
In total 796 entries in Expert classes, 217 entries in Girls classes, 270 entries in Cruiser classes and 175 entries in Superclass. Total number of moto's: 209 x 3 = 627. Just to give you some figures on this event.
In the F.T.T. competition (Factory Team Trophy competition) 22 teams entered and competed against each other. Top three finishers were:
1. Mantel-Weijers Team - Holland, 384 points
2. Sunn-Chipie II - France, 380 points
3. Links Racing - England, 338 points
The names of some of our international Chefs d' Equipe were:
Kai Nielsen from Denmark, Carol Gosling, Terry Beasley, Paul Spurr and Vince Stobart from England, Olle Edman from Sweden, Anita van Engeland from Belgium, Heribert Blau from Germany, Thorborn Dybdahl from Norway, Janis Silins and Aldons Vrublevskis from Latvia. They all played a key roll during the actual racing as communicators between the officials and the riders. Seen on the picture the first group of Latvian riders competing at the E.C.C. Third rider on left is Gundars Osis who became a GT Euro teammember years later ánd third rider on the right side, Janis Vanags who became years later a WEBCO-Mentos teammember.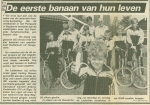 Top riders present among others were: Bas de Bever (NL), Wilco Groenendaal (NL), Jorg de Louw (NL), Nico Does (NL), Tom Lynch (GB), David Kastler (F), Phil Hoogendoorn (NL), Eric Minozzi (F), Anthony Revell (GB), Yannick Delporte (F), Claude Vuillemot (F), Jean Pierre Laurent (B), Marco Meijers (NL), Geht Shooter (GB), Franck Roman (F), Thomas Falter (D), Darren O'Neill (GB), Dale Holmes (GB) and Jan Archibald (SC).
This event had National exposure through radio and TV and over 11.000 spectators were present during the 2 day event.
Results in Superclass 20":
1. Wilco Groenendaal (NL)
2. Bas de Bever (NL)
3. Jorg de Louw (NL).
Results in Superclass 24":
1. Bas de Bever (NL)
2. David Kastler (F)
3. Dale Holmes (GB)
Results Ponypark Competition of Masters:
1. Bas de Bever (NL)
2. David Kastler (F)
3. Phil Hoogendoorn (NL)
Just some more results in other classes, winners with famous names:
Experts 17, Rob Bulten (NL).
Experts 15, Christophe Leveque (F).
Experts 12, Mark van Leur (NL).
Experts 10, Frederic King (F).
Girls 15, Corine Dorland (NL).
24" Superclass, Bas de Bever (NL).
During this prestigeous E.C.C. event, the Chairman of the Latvian BMX Committee and General Secretary of the Latvian Olympic Committe, Mr. Aldons Vrublevskis had a meeting with NOC (Dutch Olympic Cie) and IOC member Mr. Anton Geesink (r.i.p.).

May 27-28th. I.BMX.F. European Championship round III, Ipswich - England.
In total around 350 entries at this event of which 56 entries in Superclass 20 inch. Results in Superclass 20 and 24 inch:
20 inch:
1. Bas de Bever (NL),
2. Wilco Groenendaal (NL),
3. Phil Hoogendoorn (NL),
4. Xavier Redois (F),
5. Geth Shooter (GB),
6. Tom Lynch (NL),
7. Eric Minozzi (F),
8. Neil Wood (GB).
24 inch:
1. Eric Minozzi (F),
2. David Kastler (F),
3. Xavier Redois (F),
4. Phil Hoogendoorn (NL),
5. Dale Holmes (GB),
6. Vincent Claessens (CH),
7. Bas de Bever (NL),
8. Anthony Revell (GB).

May-July. GD did read an article in a Mexican magazine called "BICIS en accion", Volume1, number 3,
dated May-July 1989 on the Queen of BMX, Corine Dorland (Holland). In this issue it was also confirmed that Jose Alberto Romero did become MEXICO's number 1, 18 Expert rider.

June 7th. Gerrit Does announced the
BMX TROPHY des NATIONS 1989,

a concept for a new type of team racing,

National teams only, to help market and promote BMX as an adult sport. Only riders in Experts 16 and over could participate as well as Superclass and/or Pro-class riders. Broadcasting on TV was essential. Eight European countries would participate. A total price schedule for the 8 teams of 32.400 Dutch Florins. The winning team would go home with 7.200 Dutch Florins. Besides BMX racers, a team also included a Free-style rider. Up till today (2017) this idea never has been actualy realized.

June 19th. Gerrit Does was asked by the European Superclass riders to act as their representative towards I.BMX.F. and the E.C.C. - European Competition Committee.
On the agenda were the following points to be discussed with the I.BMX.F. and ECC:
- At the events for the European Championship Superclass serie's, Superclass should race every 30 minutes.
- Superclass wanted one and the same chief referee at all serie events.
- Strict interpretation of "pulling back or lifting bike" from starting gate:
- Only one warning in moto's and or qualifiers.
- False start in main event means disqualification.
- Superclass riders asked for 2 separate events, one on Saturday and one on Sunday.
- Make time present during the weekend useful: Friday normal practice.
- Up till now, Superclass raced only on Sunday. Why not add another event on Saturday? Now everybody in Superclass was doing nothing on Saterday. Racing on Saturday and Sunday would be good for the riders, the sport and spectators.
- Try to have at least 8 weekends with two separate events (meaning 16 complete events counting).

Time schedules as used during the European Challenge Cup races should be in place. Extra price for riders competing in 20 inch as well as in 24 inch Superclass. Make an overall standing, winner gets title: SUPERCHAMP.

Must realize a qualifying system in which ¼ and ½ finals always have 8 riders. When 1/16 and 1/8 finals are needed always try to have 5 or 6 riders in each of these qualifiers.

The riders asked: do make the European Superclass Series an OPEN serie. Do allow outside European riders to compete for the title, as is done in many other sports, which will give much more flavor and quality to these events and might draw more spectators as well.

Have special race-jersey for the leaders in the standings of this competition starting from the 2nd round. Suggestion: leader in Superclass 20 inch: yellow jersey. Leader in Superclass 24 inch: Green jersey.

Install a riders committee of 3 active Superclass riders and add as their secretary, Gerrit Does. Names of suggested riders mentioned are: Claude Vuillemot (F), Bas de Bever (NL) and Tom Lynch (GB). Do start with a monthly promotional newspaper for Superclass. Should be issued for free to Superclass riders. Such a bulletin is an important communication tool. Only years later some of the above came true. Several suggestion done above, would still go today (September 2001).

June 24-25th. I.BMX.F. European Championship round IV, Littau - Switzerland. (close to Luzern).
Only around 260 entries at this event in which Superclass 20 inch did have 32 entries.

June 30th. An official letter was sent to the European I.BMX.F. office,
with a request to consider the 12 items the Superclass riders wanted to discuss as mentioned on June 19th (above). The I.BMX.F. answer was very unsatisfactory: rules have been set, could not be changed that quick etc., etc. No flexibility, meaning riders weren't happy with this development.

July. It was stated by the I.BMX.F. that there was a growing interest for BMX in Eastern Europe.
BMX activities have been noticed in Latvia, at the time one of the USSR republics, Yugoslavia, German Democratic Republic, Poland, Hungary and Czechoslovakia. Latvia and Czechoslovakia applied for an I.BMX.F. members in 1989.

July 1st-2nd. International BMX event at Keerbergen - Belgium, I.BMX.F. snactioned.
Number of entries around 400.

July 7, 8 and 9th., the I.BMX.F. European Championship all classes 12 and up, including the Superclass 7th. and final round as well as European Cup, Aalborg - Denmark.
Location "BMX-Stadion" Aalborg. At the time BMX existed 6 year in Denmark (started officialy in 1983). The DMU and the Falcon BMX - Aalborg organized this event. The DMU existed 75 years at the time, this was there celebration year. There were around 1.000 entries. Entree fees were 17,50 Swiss francs per class. Among others, the now ( 2008/9) famous bicycle track racer Chris Hoy (Several Olympic Gold medals) competed at this event and battled for a European title.

July 14 - 16th. The BMX World-Games Cup sanctioned by the I.BMX.F., took place in Karlsruhe - Germany.
As part of the World Cup Games (the alternative for the Olympics, also organized every 4 years for non Olympic sports) this international BMX race was organized by the BDR at the Karlsruhe-Grotzingen Sportcenter.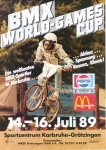 At these World Games, BMX was organized as a "demonstration sport". In total 17 European countries were represented: Austria, Belgium, Czechoslovakia, Denmark, England, France, Germany, Holland, Italy, Latvia, Luxembourg, Northern Ireland, Norway, Scotland, Sweden, Switzerland and Yugoslavia. It was said that for the 1993 World Games to be held in The Hague (Holland), BMX should have been incorporated in the regular program. Sorry to say: that never happened!

July 20 - 23rd., the 5th. FIAC - BMX World Championship took place in Sao Paulo - Brasil.
In the French Bicross magazine this event was called a FIASCO! After the FIAC Worlds in Italy (Jesolo) twice, then France (Bordeaux) and Belgium (Mol), the FIAC organization proved its incompetence. It was a sad and desperate conclusion, almost a criminal conclusion. In total 305 (three hundred and five) entries for this so-called Worlds. There were 197 expert class entries, 44 girls class entries and 64 cruiser class entries. It took the FIAC (Brazil organization) 4 days to organize this event. All main events were run in 3 moto's. The track was like all the other FIAC World Championship tracks, bad designed and built. The article in Bicross magazine called the track "archi-nulle" (design-zero) and was only around 220 meter long.
Results Superclass 20": 1. Eric Minozzi (F), 2. Xavier Redois (F), 3. Franck Chevreton (F).
Results Superclass II - 24": 1. Eric Minozzi (F), 2. Franck Chevreton (F), 3. Franck Roman (F).
World titles in the following classes won by:
Experts 12: 1. Gerson Krindges (Brasil) 2. Florent Poussin 3. Nicolas Grevet
Experts 13: 1. Timothy Strelecki (USA) 2. Ronaldo Alex Peres 3. Jean-Christophe Tricard
Experts 14: 1. Mark Sterious (USA) 2. Leandro Schwindt 3. Eric Zupko
Experts 15: 1. Gary Debacker (USA) 2. Percy Owens 3.Flavia Raymondo
Experts 16: 1. Shelby James (USA) 2.Denis Casamatta 3. Ricardo Alvarez
Experts 17+: 1. Dan Gibson (USA) 2. Shan Hatfield 3. Fabrice Vettoretti
Girls 12: 1. Mania Marona (Arg) 2. Maria Laura Flores 3. Anna Theresa Balbi
Girls 13: 1. Charline Serres (F) 2. Christiane Conceicao 3. Agna Muller
Girls 14: 1. Melanie Cline (USA) 2. Claire Lecossois 3. Karine Lavergne
Girls 15: 1. Rachel Fehr (Sui) 2. Valerie Lassauce 3. Janaina Silva
Girls 16: 1. Christelle Le Saoult (F) 2. Janaina Urbano Cintas 3. Marina Rech
Girls 17+: 1. Cristina Filineri (I) 2. Jennifer Wardle 3. Audreu Blesz
Cruiser class I : 1. Shelby James (USA) 2. Percy Owens 3. Denis Casamatta
Cruiser class III: 1. Dugan Neil (USA) 2. Eduard Cordier 3. Juan Carlos Carbo

The medal count of this event was as follows:

Country Gold Silver Bronze Total
1. USA 8 4 1 13
2. France 4 7 6 17
3. Brasil 1 4 4 9
4. Argentina 1 1 2 4
5. Italy 1 - 1 2
6. Switzerland 1 - - 1
7. Canada - - 1 1
8. Colombia - - 1 1

August of this year the 1st. International BMX event, sanctioned by the I.BMX.F., took place in Jelgava - Latvia.
Riders present from Denmark, Norway and Sweden as well as from Holland just to mention a few. About 200 entries were registered.

August 4-6th., I.BMX.F. - BMX World Championships, Brisbane - Queensland - Australia took place at the Chandler Velodrome.
My wife and I went to Australia un-announced on July 27th. Surprised Nico Does and other Blue Thunder team members at their hotel in Ipswich. Trip to Australia through Singapore. After arriving in Brisbane we were picked up by Keith Brennan from the Ipswich BMX club and brought to a Golf course were I met with Tadashi Inoue (one of the original founders of the I.BMX.F) and we played golf for some hours. We visited one of the Pre-races at Sandgate on August 2nd. and visited with our friend Keith Brennan from the Ipswich BMX club. With all team members we also made a tour along the Gold Coast, did swim in the Ocean (we were crazy people they Aussies said).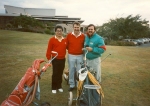 Most Dutch riders and parents traveled together and had big problems leaving Schiphol Airport (Amsterdam). The BMX bikes had not been accounted for and now the riders had to pay airfreight to transport their bikes to Australia. Over 20.000 guilders had to be paid!! Wrong doing of the responsible travel agent! Seen here the Dutch Blue Thunder Team getting ready to leave Schiphol Airport for Australia: Bas de Bever, Nico Does, Jürgen van Melis, Anita v.d. Mortel and mechanic Wim Rijk. Just weeks before this Worlds Nico Does broke his collarbone, went to hospital, a plate was put in and around 2/3 weeks after that he finished 3rd at this Worlds in Superclass 20".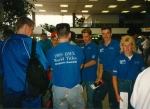 The event did have 1223 entries and the following 16 countries participated Brazil, Canada, Chile, Denmark, France, West-Germany, Holland, Japan, Mexico, New Zealand, Papua New Guinea, Switzerland, United Kingdom, USA, Venezuela and ofcourse the hosting country Australia. The moto count was 172. There were 33 entries in Superclass 20 inch and 23 in Superclass 24 inch. This first day of racing was under a clouded ski and some rain. The second day of racing was under a sunny ski with nice temperatures. Fastest laptime in Pro class was 32,87 seconds. Three major international BMX magazines were present: BMX Plus (USA), Aussie Action (Australia) and Bicross Magazine (F). A production company filmed the main events and did put together a video tape, that was available for sale later on. For the first time present at an I.BMX.F. Worlds were riders from the Australian part of New Guinea and after a couple of years of missing out the Worlds, the Japanese were present again. Most riders ofcourse came from Australia.
Final results in Superclass 20 inch:
1. Eric Minozzi (F),
2. Bas de Bever (NL),
3. Nico Does (NL),
4. Wilco Groenendaal (NL),
5. Phil Hoogendoorn (NL),
6. Marco Mathey (D),
7. Bruce Morris (Australia),
8. Claude Vuillemot (F).

Final results in Pro class 20 inch:
1. Charles Townsend (USA),
2. Rick Palmer (USA),
3. Greg Hill (USA),
4. Mike King (USA),
5. Billy Griggs (USA),
6. Paul Addams (Australia),
7. Gary Ellis (USA),
8. Andrew Hassan (Australia).
Click here for
results

in all other classes:

Medal count:
Country Gold Silver Bronze
Australia 18 23 22
USA 12 7 4
Holland 3 5 3
New Zealand 1 - 4
France 1 - 1
Chili - - 1
Total 35 35 35

No gold, silver or bronze for the following countries present: West-Germany, Canada, Papua New Guinea, Switzerland, Denmark and United Kingdom.

Corpotate Team competition. 18 teams took part in this team competition. The teams were: Cyclecraft - GT Team - Free Agent - MCS / Eagle Snacks - NZ Titan - NZ Crisp - Coca Cola - Crisp Bros 1 - Crisp 2 - Elizabeth Star 1 - Elizebeth Star 2 - Free Agent Australia - MCS Australia - Phase 2 Australia - Powerlite Australia - SLA Racing - Blue Thunder / Sunn Premier - Rat Racing.

I.MBX.F annual congress August 3rd 1989. The I.BMX.F. Board of Directors was composed of the following persons:
President: Ross Fisher - Australia
Vice-president: Louis Vrijdag - Holland
Treasurer: Franz Hattan - Switzerland
Member: Abe Schneider - Australia
Member: Chuck Robinson - USA
Member: Ruy Barbosa - Chile


November 18th. On this date the I.BMX.F. European Committee meeting took place in Luzern - Switzerland.
Present were:
Rene Nicolas and
Christine Deconclois - France
Ralph Neri - Switzerland
David and Mary Ferrier - Scotland
Frans du Maine - Holland
Bjorn Madsen - Denmark
Nils Grotnes - Sweden
Paul Spurr and Terry Beasley - England
Heribert Blau - Germany
Franz Hattan as European Committee treasurer and
Louis Vrijdag as European Committee Chairman.

Not present representative from: Norway, Austria and Belgium (BCB)

Special guests:
Gerrit Does - Holland, as delegate for the European Superclass riders.
Anita van Engeland and Michel Lemal as representative for the B.BMX.F. (since BCB seized to exist).

The June 19th, Superclass riders proposals (see above June 19th.) were discussed. The final conclusion was that ideas reflected could not be realized in 1990, but maybe in 1991. Here just a few reactions of the committee members on some fo the suggestions made by the Superclass riders: It would be 2 day races with 2 day prize money. On a financial point of view this could be a problem for some organisers. The 30 minutes rythm for Superclass riders could be respected by organisers. On a more general point of view we should also think of it for other riders. Communication is an important item. It will be improved this year with the diary. In general a very disappointing meeting, with in fact no results on the June 19th proposals/suggestions.

Another interesting section of these minutes:
"Mr. Frans Hattan (treasurer EC) is drawing the attention of the EC members on the 3rd page of his financial report concerning the international licenses still unpaid on October 31st 1989. After discussions with the different countries everything seems to be settled or about to be settled except for Norway. Norway is not present. There are rumors about Norway and FIAC: Norway has been allocated the 1991 FIAC World Championship and it could be that they are now more FIAC than I.BMX.F. Anyway the treasurer will ask once again for the settlement of these 1987 international licences.

I.BMX.F. - FIAC talks, a brief report:
Louis Vrijdag makes a report of the last events since Slagharen (EC had a meeting during the 1989 E.C.C. at Slagharen) and especially a meeting in London - England last September with:
I.BMX.F. Louis Vrijdag (NL) - Rene Nicolas (F) and Bob Tedesco (USA), FIAC Mr. G. Abbas - M. Bollen (B) and E. Rosati (I). Discussions were hard and difficult. Proposals were to have:

a. One World Championship in 1991 under UCI/FIAC if not possible, then plan for 1992.
b. Have the possibility of exchanging riders each year during international events.
c. This proposal will be discussed on January 13 / 14 th 1990 by the I.BMX.F. Board of Directors. FIAC has already answered: they totally agree!

1990 European Championship. International officials appointed were:
Chief Referee: Eddy Posthuma / Holland
2nd Referee: Norman Darbyshire / Holland
Chief Scorer: Theo Overman / Holland

Scotland applied for the organisation of the 1992 European Championship.

December. Number of KNWU licenses back from 2001 till 1497 licenses.
In total 423 events were organized In Holland, of which 139 district events, 8 so-called Grand Nationals, 4 AMEV events and 1 Dutch National Championship event.


Picture galary:
Year 1988, a Todd Lyons action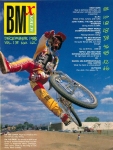 December 1989 the N.B.L. Christmas Classic in Columbus - Ohio, USA took place. MCS rider is Bas de Bever (Holland) riding for MCS at the time.