History of BMX (1986 - 1987)
YEAR 1986.
1986 - January. It was in this year that another bicycle sport called Bicycle-trial or Trialsin, was officially enclosed in the U.C.I. - FIAC.
For the first time a World-Championship would be organized later on this year. Main-man concerning Trialsin development was Mr. Pedro PI, a former motorcycle-trial rider and champion. Germany and Spain were the countries were the concentration of riders was. Also France, Switzerland and Italy were involved.
January. I received a report concerning the International Bicicross Congress held January 13th. at Long Beach California.
Very disappointing was the fact that without democratic decision making the I.BMX.F. decided to cancel the scheduled World Championship1986 to be held in Venezuela and they allocated this event now to England!!! Motivation was poor: Mr. Hoar stated as a reason for moving the Worlds that, Venezuela did not have either the personal or human resources to organize the Worlds. Mr. Matheus repeatedly refuted this, however without any result. The decision was made and nothing good be done now. Politics seemed to be the real reason to change the location. I wasn't happy with this procedure at all, but couldn't do anything not being involved in the I.BMX.F. anymore. Venezuela deserved better!
January issue of BMX ACTION by Bob Osborn reported on "The making of RAD" a BMX movie.
The filming took place up in Canada. The idea to make a special BMX movie was born in 1983 by movie scriptwriter Sam Bernard. Pat Romano and Eddie Fiola did stunts. The BMX factories represented were mainly GT, Red Line, Vans, Hutch, Norco, Skyway and Robinson, Mongoose and Murray supplied the bikes. Also involved in the movie were Mike Miranda, Martin Aparijo, Jose Yanez and Kevin Hull.
February. Presentation of BMX team "SINISALO" in Holland, organized by Gerrit Does.
Sinisalo importer "van de Kuinder Motoren" Hilversum-Holland, did sponsor this new team with complete sets of race clothing. Teammembers selected were: Freddy van Breemen, Nico Does, Bas de Bever and Paul Rovers. Appointed team manager was Mr. van Breemen. AMEV (an insurance company) became the main sponsor of the KNWU in Holland and because of that fact it was possible to create a national selection (team) with semi-professional support. Read below.

March 20th. On this date an official press-conference took place were the AMEV sponsored KNWU National BMX team members were presented.
Gerrit Does was asked by the KNWU, to run the BMX team and became team manager. He selected Holland's best Superclass riders to form the famous team AMEV, a semi professional BMX team with a yearly budget of about H.fl. 90.000,=. They overall organization was at a professional level. Teammembers were Addie van de Ven, Ludy van der Werff (r.i.p.), Jan Hekman, Pierre van Zuylen en Phil Hoogendoorn. For 3 years, the "team AMEV" would rule national and specially international European BMX racing. They were trend setting in many aspects.
Early February, the selected riders and sponsors came together at the Motel Eindhoven - Holland, to brief all the riders, issue uniforms and bicycles and sign contracts. Her a picture of the group together with Mr. Hogerheijde who was Phil Hoogendoorn's bicycle sponsor (JMC). Present also was a young Pieter Does. Not in picture Ludy v.d. Werff.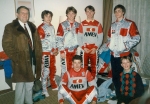 February 2nd. Indoor de TOURS - France.
For the first time Superclass was introduced at this event. Internationally the Tours indoor was considered the start of the International season.

April 5th. Mours Cavaillon - France. Round 1, I.BMX.F. E.C. Superclass serie 1986.
The 1986 series were called the "Startrack Series 1986". Cavaillon BMX track was at the time one of the nicest tracks on a fantastic location in the south of France. At this event, around the time the semi-finals had to be run, thousands of outside BMX spectators entered the BMX area and paid about 12 ½ Dutch guilders to watch the races. Pierre van Zuylen - Holland (team AMEV) who won Supercruiser, did win about 3000 French francs. Xavier Redois - France did win Superclass 20". Again a very nice track and a perfect organization.
First race day April 5th, 4000 spectators. Second race day April 6th. around 7.500 spectators. Local TV and the Monte Carlo Radio station were present and reported about this event. In total there around 800 entries and 109 races were run. Superclass 20 inch running for the European Championship title, did have 45 entries and Superclass 24 inch had 34 entries. From Holland, the KNWU National BMX Selection took part in this Championship event. Seen here the teamroster, results and other remarks, made at the time by team-manager Gerrit Does.
groep `cavaillon`

May 4th. The Scorpion International Spring Classic at Lowestoft - England took place.
This also was Round 2 of the 1986 I.BMX.F. Superclass series. Invited were 4 top USA Pro's being Eddy King, Scott Clark, Tommy Brackens and Travis Chipres. They competed in the special created event at this race, the "invitation Pro-class 20 inch".
Pro results:
1st Tommy Brackens USA
2nd Geth Shooter GB
3rd Eddie King USA
4th Scott Clark USA
5th Tim March GB
6th Garry Llewellyn GBR
7th Jamie Vince GB
8th Charlie Reynolds GB
Superclass results:
1st Pierre van Zuylen NL
2nd Jan Hekman NL
3rd Patrick Dewael B
4th Leon Walravens NL
5th Xavier Redois F
6th Ivo Vidakovic D
7th Kevin Hanlon GB
8th Darrin Stock GB
B-final won by Tom Lynch-GB
Supercruiser results:
1st Pierre van Zuylen NL
2nd Claude Vuillemot F
3rd Dattin Stock GB
4th Jan Hekman NL
5th Xavier Redois F
6th Addie van de Ven NL
7th Ludy van de Werff NL
8th Rainer Schadowski D

June 13-15th. The I.BMX.F. sanctioned European Challenge Cup III (E.C.C. III) - Slagharen, Holland took place.
This event included Round 3 of the Superclass serie 1986. Over 1700 entries of which approx. 1100 riders from Holland and 600 riders from another 9 European countries. Overall 681 moto's were run (3 x 227). The French team was the largest team present with 350 entries. The organization had contracted the French Moto-becane Freestyle team called "MAD DOGS" as well as the Americans Martin Aparayo, Denis Langlais and Ron Wilkerson of Team GT. Very special was a demonstration by Superclass riders on MOTO-BECANE BMX bikes transferred into so called "Funny bikes" of the MBK team (Moto-becane). A BMX bike with an engine (automatic gearbox). Some names of the international riders present were: Cassan, Robleda, Poussin, Rodriquez, Bey, Ferré, Minozzi, Legrand, Redois from France. Van Zuylen, Hekman, Hoogendoorn, v.d. Werff, Walravens, Hartwig, v.d. Ven from Holland; De Wael, Wouters from Belgium; Tom Lynch from England; Rainer Schadowski from Germany. During this 2 day event over 7500 spectators passed the gates of Ponypark Slagharen to watch the racing. The total amount of price-money paid was 11.000 Dutch guilders, and as always, all finalists received a nice trophy.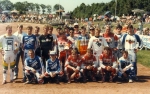 July 3 - 6th. The 1st. COUPE 'd EUROPE at Beaupuy - France organized by the FFC - UCI / FIAC took place.
Around 300 riders took part in this event representing about 7 European countries. Mr. M. Sauret the responsible man within the FFC-France at the time and Mr. Pedro PI, vice-president of the international BMX and Trialsin (C.I.B.T.) F.I.A.C. were organizing this event. It took them 4 days to run an event with only 300 riders. Insiders know what that means!

July 5-6th. BMX event in Beringen - Belgium, Round 4, I.BMX.F. EC Superclass serie 1986.
Around 400 entries, of which about 200 Dutch riders. Dutchman Pierre van Zuylen did win this Supercruiser event and with this win the overall European Championship in the Supercruiser class. In the main event 5 Dutch riders, 2 French and 1 German rider.
Superclass 20 inch results: 1st Pierre van Zuylen-NL; 2nd Xavier Redois-F: 3rd Jan Hekman-NL.
Supercruiser 24 inchresults: 1st Pierre van Zuylen-NL; 2nd Phil Hoogendoorn-NL; 3rd Xavier Redois-F.

July 25 - 27th. the I.BMX.F. European Championship in Weiterstadt - Germany,
including final Round 5, EC Superclass serie 1986. Organizer TSV Braunshardt with leading lady Mrs. Höpping. A very well organized event on a fantastic track. The 345 meter long track had been renewed completely before this event and the budget for that was DM 250.000.

Over 7500 spectators watched the racing during the 2 day event. A covered accommodation of 5000 m2 was available for the spectators and riders. In total 1029 entries from 15 countries. 423 moto's total on Saturday. The main event in Superclass was won by Tom Lynch with Phil Hoogendoorn second and Jan Hekman third. The overall winner of the Superclass serie' 86 was Pierre van Zuylen, who also won the European title in Supercruiser class. Holland riders did won 15 gold medals, 13 silver ones and 15 bronze medals at this European Championship.
Overall result European Championship Superclass 1986:
1. Pierre van Zuylen NL
2. Xavier Redois F
3. Jan Hekman NL
4. Patrick de Wael B
5. Tom Lynch GB
6. Phil Hoogendoorn NL
7. Addie van de Ven NL
8. Leon Walravens NL
9. Claude Vuillemot F
10. Ludy v.d. Werff NL


August 2nd., the 2nd. FIAC BMX World Championship at Jesolo - Pineta took place, located close to Venice in Italy.
The FIAC organizations was confirmed of poor quality and only around 500 riders took part from about 8 countries.

July 31st - August 3rd., BMX - 86 Nordisk Mesterskap, Kongeparken - Sandnes, Norway.
I was invited by Mr. Lars Forus to give an officials seminar and act as trackmanager during the championship itself. It was a very successful weekend. August 2nd. and 3rd. Gerrit Does was active as instructor and track-manager during Scandinavian Championship in Sandness - Norway. Countries participating: Sweden, Denmark and Norway. Track located at amusement park called "KONGEPARKEN". I traveled by plane from Amsterdam to Stavanger and back (August 1st - August 4th., DC 9).

August 11th - 17th., the 5th. I.MBX.F. World Championships in Slough - England took place.


At a 98 acre park at Upston Court, Datchet - Slough this World Championship took place. Sam Wood, the UKBMX Chairman and a handfull of volunteers, had worked very hard to get it all ready in time. Changing and preparing the track did cost 5,000 English pounds. A fantastic job done for sure. This Worlds main sponsor was "Weetabix" (budget 30,000, English pounds). There was TV and radio coverage.
England top Pro's (20") took part in this event, among them; Craig Schofield, Charlie Reynolds, Geth Shooter, Tim March, Jamie Vince, Andy Ruffell, Pete Middleton, Garry Llewellyn, Jason Maloney, Steve Baldry and Nikke Matthews to just mention a few. Not many USA Pro's (20") came over, but the guys who were there, were fast: Tommy Brackens, Gary Ellis, Mike Miranda, Eddy King, Shawn Texas and Greg Hill. Only 6 Pro's then!
Reason why only a few pro's came over? In those days, pro's were sent to World Championships by their sponsors when it was sure American Magazines were present and reporting on the event (kind of advertising in fact). Making pictures, writing stories and publishing that in among others BMX Action (the leading USA BMX magazine at the time). BMX Action was not invited to come to this event and they did not come over on their own expenses.
In Pro-cruiser class a protest by the English riders (case: Llewellyn!) was the reason why no World title was won here (the English riders refused to race). The only rider that did race 1 moto was Shawn Texas and the crowd (7 till 8 thousand people) cheered him on like crazy.
Some famous names at the time in Expert and Cruiser classes were:

9 experts Leiv Ove Nordmark (N), Florent Poussin (F).
10 experts Jason Donnell (USA), Jean Christophe Tricard (F), Alex van Diessen (NL);
12 experts Shelby James (USA), Jo Eastwood (GB);
13 experts Jean Pierre van Hoof (NL), John Purse (USA);
15 experts Andy Welsh and Dean Iddiols (both GB), Frank Chevreton (F), Ryan Ledebur (NL), Rodric Neri (CH), Dale Holmes (GB);
16 experts Eric Carter (USA), David Cullinan (USA), David Kastler (F), Robert Stobbart (GB), Nigel Kenning (GB), Darren Wood (GB) and Franck Roman (F);
17 experts Charles Townsend (USA), Todd Corbit (USA), Wilco Groenendaal (NL), Jasson Duffy (GB) and Bas de Bever (NL);

In cruiser classes among others. Rainer Schadwoski (D), Oliver Fuhrmann (D), Marco Meijers (NL), Christophe Boul (F), Andreas Nyberg (S);
In Supercruiser class, Kris Wouters and Patrick de Wael of Belgium. Xavier Redois, Frederick Beaumont (F), Gary Wallace (GB), Pierre van Zuylen (AMEV - NL);
In Superclass Phil Hoogendoorn, Addie van de Ven, Ludy v.d. Werff and Jan Hekman of the Dutch AMEV team, Tom Lynch, Tony Fleming and Darren Stock (GB), Bert Rueckert (D).
A lot of activities to entertain the many riders and their supporters were organized. A Bar-B-Que Disco was organized as well as street theater, clowns, fairs, skateboard and freestyle demos were given. Freestyle demos by Craig Campbell, Glynn Lewis, Pepi Winder, Jason Lunn, Andy Shoara. The USA Skyway Freestyle team present as well gave demo's; Scottie Freeman, Eddie Roman, Carlo Grigs and Maurice Mayer entertained the crowd.
During the event, the official Press present on the infield were gathered together and received an official warning. They weren´t allowed to stand in the corners and could not use their flashlights anymore !!! They were hindering the riders `they said`.
18 countries were represented with in total 1365 entries. Riders from:
Australia - Brazil - Canada - Chile - Denmark - England - France - Germany - Holland - Ireland - Mexico - New Zealand - Norway - Scotland - Sweden - Switzerland - USA and Zimbabwe.
Speaker during the event was Australian (I.BMX.F. board member) Abe Schneider.
Results of the I.BMX.F. World Championships - Slough, England.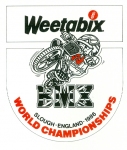 Pro class 20 inch:
1. Tommy Brackens USA, World Champion
2. Shawn Texas USA
3. Gary Ellis USA
4. Mike Miranda USA
5. Eddy King USA
6. Charlie Reynolds GBR
7. Gary Llewellyn GBR
8. Greg Hill USA

Superclass 20": Superclass 24":
1. Phil HoogendoornNED, WC 1. Patrick DeWael BEL, WC
2. Addie van de Ven NED 2. Rainer Schadowski GER
3. Tom Lynch GBR 3. Xavier Redois FRA
4. Ludy van de Werff NED 4. Phil Hoogendoorn NED
5. Bert Rueckert GER 5. Jan Hekman NED
6. Darrin Stock GBR 6. Frederick Beaumont FRA
7. Jan Hekman NED 7. Gary Wallace GBR
8. Tony Fleming GBR 8. Pierre van Zuylen NED
16 & Over Girls: 14/15 Girls:
1. Sarah Jane Nichols GBR, WC 1. Luli Adeyemo GBR, WC
2. Karen Murphy GBR 2. Linda Scheepers NED
3. Anita v.d. Mortel NED 3. Emma Crew GBR
4. Lisa Hoare AUS 4. Jacqueline Martin CHI
5. Marsha Blanker NED 5. Melanie van Deene NED
6. Julie Woodward GBR 6. Erica VerhoevenNED
7. Sandra Dumaine NED 7. Saslia Deplukker BEL
8. Gladys Vakkers NED 8. Krytal Martin FRA

12/13 Girls: 10/11 Girls:
1. Corine Dorland NED, WC 1. Lyndal Ellement AUS, WC
2. Shakira Mols NED 2. Nancy Wouter BEL
3. Daniëlle Ermers NED 3. Arieta Minnema NED
4. Marion van Otterdijk NED 4. Adele Croxon GBR
5. Chantal Cnaeps BEL 5. Lea Pandleton GBR
6. Lynsey Smale GBR 6. Sarah King GBR
7. Anna Morris GBR 7. Vedette Fitzsimmons AUS
8. Tanya Bakranich GBR 8. -- (only 7 riders)
8/9 Girls: 7 & Under Girls:
1. Nadine Stevens NED, WC 1. Ghedy van den Aker NED, WC
2. Sabine Schoenmakers NED 2. Brook Esplin AUS
3. Kelly Gilloway USA 3. Sandy Moen NED
4. Lyndsey Gilmer IRL 4. Natasha Sweeting GBR
5. Joanne Winter GBR 5. Nathalie Rohn GER
6. Rona Heafker GER 6. Phillipa Gordon NZL
7. Nancy Zegers NED 7. Judith Beentjes NED
8. Michelle Chenery GBR 8. Sandra Zimmer GER
6 and Under Experts: 7 Experts:
1. Ross Thompson GBR, WC 1. Donny Dunstall USA, WC
2. James Verseci GBR 2. Jonathan Jorgensen GBR
3. Daniel Worthington GBR 3. Nelson Wellington BRA
4. Simon Johnston GBR 4. Tony Gilham GBR
5. Simon Taylor GBR 5. Brendan Payne AUS
6. Daniel Green GBR 6. Jonathan Clarke GBR
7. Lucas Benjamin FRA 7. Adam Brown AUS
8. Stephen Murray GBR 8. Michel van de Brink NED
8 Experts: 9 Experts:
1. Pat Foster USA, WC 1. David Maw GBR, WC
2. Jesse Carlsson AUS 2. Leiv Ove Nordmark NOR
3. Wayne Knipe AUS 3. Henri Kuijpers NED
4. Paul Silloway USA 4. Andrew Lee GBR
5. Mark de Bruin NED 5. Tama Canning USA
6. Edgar Busqueds ESP 6. Florent Poussin FRA
7. Peter Alex Joles CHI 7. Joaquin Ramolfo CHI
8. Marcos Melle CHI 8. Gary Smith GBR
10 Experts: 11 Experts:
1. Jason Donnell USA, WC 1. Ryan Scott AUS, WC
2. Daniel Lee AUS 2. Remco Jansen NED
3. Wally Pack GBR 3. Luis Oviedo CHI
4. Rodrige Sequell CHI 4. Freddie de Vries NED
5. Alex van Diessen NED 5. Michael Urannie NED
6. Bobby James USA 6. Martin Upshall GBR
7. René Martens NED 7. Robert Sprokholt NED
8. Jean Christophe Tricard FRA 8. Ralph Blewanus NED
12 Experts: 13 Experts:
1. Shelby James USA, WC 1. Alex Bohnenstengel GER, WC
2. Jo Eastwood GBR 2. Laurent Rougemont FRA
3. Tom Fransen BEL 3. Jeremy O'Brien IRL
4. Scott Nelson NZL 4. Fabian Cocut FRA
5. Lee Puickstone GBR 5. Holger Geyer GER
6. Richard Everest GBR 6. Jean Pierre v. Hoof NED
7. Bertrand Lenoble FRA 7. David McPherson GBR
8. Robert Tepper NED 8. John Purse USA

14 Experts: 15 Experts:
1. Andrew Figliomeni AUS, WC 1. Andy Welsh GBR, WC
2. Geremy Kenning GBR 2. Ryan Ledebuhr NED
3. Chris Taylor GBR 3. Dean Iddiols GBR
4. Gunther de Visser BEL 4. Xavier Robleda FRA
5. Guido Meier GER 5. Cesar Magallon CHI
6. Leon v.d. Schouw NED 6. Franck Chevreton FRA
7. Frederic Hetmanczyk FRA 7. Rodric Neri SUI
8. Shan Hatfield USA 8. Ian Archibald GBR
16 Experts: 17 Experts:
1. Eric Carter USA, WC 1. Charles Townsend USA, WC
2. Mark van Driel NED 2. Marco Meyers NED
3. Martijn v.d. Boogaard NED 3. Todd Corbitt USA
4. David Cullinan USA 4. Wilco Groenendaal NED
5. David Kastler FRA 5. Marcel Mandigers NED
6. Robert Stobbart GBR 6. Jason Duffy GBR
7. Nigel Kenning GBR 7. René Weterings NED
8. Franck Roman FRA 8. Bas de Bever NED
13 & Under Cruisers: 14/15 Cruisers:
1. Shelby James USA, WC 1. Frank Chevreton FRA, WC
2. Laurent Rougemont FRA 2. Dean Iddiols GBR
3. Tom Franssen BEL 3. Dale Holmes GBR
4. Jason Thomas GBR 4. Ryan Ledebuhr NED
5. Laurence Edwardes GBR 5. Jeffrey Bignell NED
6. Paul Flavin GBR 6. Shan Hatfield USA
7. Lee Hunt GBR 7. Jerome Calvet FRA
8. Grant White AUS 8. Brad Birdwell USA
16/17 Cruisers: 18/24 Cruisers:
1. Eric Carter USA, WC 1. Charles Townsend USA, WC
2. David CullinanUSA 2. Bas de Bever NED
3. Gerard Centen NED 3. Todd Corbit USA
4. David Kastler FRA 4. René Weterings NED
5. Darren Wood GBR 5. Christophe Boule FRA
6. Olivier Morin FRA 6. Alain Deschaegt BEL
7. Oliver Führmann GER 7. Andreas Nyberg SWE
8. Marco Meyers NED 8. Kris Wouters BEL
25/39 Cruisers: 40 & Over Cruisers:
1. Jean Legrand FRA, WC 1. John Johns GBR, WC
2. Philip Haanskrof AUS 2. Bernard Dupaquier FRA
3. Peter Stiphout NED 3. Errol Nelson NZL
4. Philip Turner GBR 4. Ian Clark NZL
5. Jos Vincent NED 5. Chris Bilner GBR
6. Paul Vakkers NED 6. John Terry GBR
7. Arthur Coombes AUS 7. Brian Neville GBR
8. Pascal Duhoux FRA 8. Parfait Rebleda FRA


August 19 - 25th. The 2nd. Pacific Oceanic BMX Championships - Hakodate, Japan took place.
Together with my wife and Frank Verspaandonk (registration and jury specialist) we were invitated by Mr. Tadashi Inoue of the Japanese Bicycle Association. I was asked to act as I.BMX.F. observer for this prestigious event. My wife and Frank would act as scorer and chief scorer during this event. We left Holland on August 19th. and arriving in Tokyo, Narita Airport on Wednesday August 20th.


We went by coach from the airport to the Keio Plaza Hotel in Tokyo were Tadashi Inoue picked us up. We stayed close to the JBA office in the Komaba Eminurse Hotel. On August 21st. we were leaving for Hakodate from Tokyo/Haneda Airport. People from Seibu Company of Morimachi Government office picked us up from the Hakodate airport and transported us to the Pacific Oceanic BMX Championships headquarters at the Nitto Onuma Hotel.
At the Nitto Onuma Hotel an official welcome party was organized by the JBA. A special ceremony took place, traditional Japanese drum group performed and a dance group of Japanese children showed their skills in traditional dancing. Celebreties were presented to those present. A TV crew from a Tokyo TV station was present as well.
The BMX track was located on the grounds of a vacation resort. During the weekend of the event, we as officials stayed in the cottages on the grounds of the vacation resort. Besides the BMX races, also all kinds of other activities were organized, among others activities to teach the foreing riders part of the culture of Japan. In all, this was a very interesting and unique experience for all foreigners present during this weekend.
Ofcourse a traditional Japanese tea ceremony was conducted for the foreign officials. It was explained in detail how to perform a traditional tea ceremony.
The Komagatake BMX track was a very spectacular track which up till today (2001) was rare in our world of BMX. An about 8 meter high starting hill with full automatic starting gate, designed and made by Honda has been built. The track itself was very long and did have several high jumps and difficult sections in it. Spectators were able to sit on the long side of the first straight. Seen here an overview of the BMX track.
Main sponsors were: Coca-Cola, Quantas Air Line, Seibu Department store, Seiyu Supermarkets, Casio, JVC, HONDA and others. A National TV station televised a one hour program of this race. The location of the track was at Akaigawa Morimachi, Kayabe-gun, Hokkaido - Japan. An official reception and presentation was part of the event. Sponsors were brought in from Tokyo by plane and even a Congress man, Mr. Hatori was present.





The Pacific Oceanic Congress took place on August 22nd., were a Policy Statement was composed and issued after the Board of Directors was elected:
President: George E. Esser - USA
Vice President: Tadashi Inoue - Japan
General-secretary: Ross Fisher - Australia
Member BoD:
Don Hutelin - USA
Sado Nishimura - Japan
Abe Schneider - Australia
Loyal K.W. Ma - Canada
Dave Poccock - New-Zealand
Fuyuki Ishikawa - Japan
Ken Nonaka - Japan
Richard Silbert - Australia
Kris Britton - Australia
Fank Figliomeni - Australia
Akio Matsui - Japan
Toshiteru Kure - Japan
Observer:
Gerrit Does - Holland
Here a view pictures to give you an impression of the event during day 2 of this event. Many spectators showed up and all of them had a great time. Sown here part of the officials group with among others Tadashi Inoue - Japan, Loyal Ma- Canada, Richard Silbert, Abe Scheider- both Austria and DavePocock- New Zealand. The trophies presented to the riders were very special too, one of a kind.

At the end of the racing, a final "head officials meeting" took place and a pass by, by a plane with a text "See you next time in Alberta / Canada" and last but not least a young Japanese BMX rider wishing all of us a good and safe trip home and see you next time.
This was the END of a unique BMX event at Komagatake / Hokkaido - Japan in 1986.

August 25th. We left from Hakodate for Tokyo-Haneda Airport and stayed at the Komaba Eminurse Hotel in Tokyo.
We stayed at the Komaba Eminurse Hotle in Tokyo, close to the JBA - Japan Bicycle Association office in Shibu-Ya-ku. Our next BMX event would be at Togane City, close to Tokyo.

August 27th. We attended another International BMX race at TOGANE-City close to Tokyo.
We travelled by car on August 27th., to Togane City, were another international BMX race took place.
In the evening a reception took place specially organized for the foreign BMX visitors. After the BMX event and another 2 days of sight-seeing and shopping we left Japan on August 29th. and arrived August 30th. at Schiphol Airport - Holland. An unforgettable experience it was. THANKS TADASHI-SAN!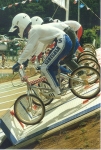 August 30th - 31st. KNWU - AMEV Superbowl Series, Assen-Holland.

September. An article on FIAC (at the time the Amateur division of UCI) in the USA BMX magazine called BMX PLUS by
the United States Cycling Federation, stated that BMX would be an OLYMPIC sport in 1996!!?? (Officialy Hein Verbruggen - UCI President, announced in 2005 that BMX would become an Olympic discipline in 2008 at the Olympics in Beijing - China).

September 5th. A letter came in at my home address from the new appointed President of the I.BMX.F, Mr. Ross Fisher (Australia),
telling me to ship a.s.a.p. all I.BMX.F. files in my possession to the new I.BMX.F. office in Melbourne - Australia. That was done later that month. Note: During the period that Mr. Tony Hoar (Canada) acted as I.BMX.F president, never such a request came in. How was that office able to function without having files and detailed information? After the I.BMX.F. started a co-operation with the FIAC and later on UCI, the UCI never received at their Lausanne (Switzerland) located UCI office (at the time) the files from the former Australian I.BMX.F. office. A lot of essential and historical information got lost that way. Ofcourse as a former General Secretary I was able to save a lot of documents that I now can use in this website to proof statements made.

September 19/20th. I.BMX.F. event during the IFMA, Cologne - Germany.
During the international bicycle and motorcycle show in Cologne, a BMX race was scheduled in order to promote BMX race. An indoor dirt track was built in one of the many halls at the IFMA exhibition center.

September 23rd. I received a letter from the APABMX (Asociacion Panamena de BMX) Panama stating that they changed their name into P.BMX.A - Panama BMX Association.
In name of the P.BMX.A. Mrs. Gilma Pedrozo asked to confirm their I.BMX.F. membership. I did sent all info on to the new I.BMX.F. President, Mr. Ross Fisher - Australia.

November 23rd. The 3rd. International Bicross Omnisport de Bercy - Paris, France took place.
It was the 3rd. time that this international recognized radical event took place at the Palais Omnisport de Paris - Bercy. It contained a cocktail of sport and show. 12 countries (11 European and USA) were represented with in total around 300 only invited riders. Twelve USA Pro's were invited, 9 BMX racers Pete Loncarevich, Shawn Texas, Eddy King, Harry Leary, Stuart Thompsen, Eric Rupe, Greg Hill, Mike Miranda, Tommy Brackens and a team of BMX Freestyle riders, Mike Dominquez, Martin Aparayo and R.L. Osborn.
As extra entertainment 2 Freestyle teams were invited: the French MAD DOGS team and the HARO trickteam from the USA. Promoters of this event as before, Bicross Magazine of Edition Lariviére by Mr. Didier Coste in cooperation with the A.F.B. with Mr. René Nicolas.
Results:
Supertrophy:
1. Shawn Texas (USA)
2. Eric Rupe (USA)
3. Stu Thomsen (USA)

Pro-money class:
1. Pete Loncarevich (USA)
2. Shawn Texas (USA)
3. Eddie King (USA)
4. Stu Thomsen (USA)
5. Eric Rupe (USA)
6. Greg Hill (USA)
7. Tommy Brackens (USA)
8. Mike Miranda (USA)

Superclass 20 inch:
1. Luc Koehler (F)
2. David Kastler (F)
3. Xavier Redois (F)
4. Pierre van Zuylen (NED)
5. Addie van de Ven (NED)
6. Phil Hoogendoorn (NED)
7. Christophe Berthiaud (F)
8. Charles Townsend (USA)

Supercruiser 24 inch
1 .Patrick Dewael (B)
2. Claude Vuillemot (F)
3. Xavier Redois (F)
4. Pierre van Zuylen (NED)
5. Dirk Demeulenaer (BEL)
6. Luc Koehler (F)
7. David Kastler (F)
8. Phil Hoogendoorn (NED)

Results of the Dutch riders present:
Experts 12: 3rd. Robert Topper and 6th. Michael Noordam
Experts 14: Paul Rovers
Experts 15: 1st. Jeffrey Bignell and 7th. Marcel Fleur
Experts 16: 3rd. Nico Does and 8th. Mark van Driel
Experts 17: 3rd. Marcel Mandigers
Girls 12-13: 1st. Marion van Otterdijk and 8th. Mariella de Borst
Girls 14-15: 5th. Melanie van Deene
Girlks 16+: 1st. Anita van de Mortel and 3rd. Monique Franssen


December 1986, latest developments in BMX in general.
Switzerland: The Federation BMX Schweiz did have around 500 license holders at the end of this season.
Holland: In Holland the number of licenses went down from 4400 in 1985 to 3831 competition licenses in 1986.
USA: In December of this year the USA Magazine, BMX ACTION of Bob Osborn celebrated its 10th. anniversary.

December 17th, first contact through mail with Mr. Janis Silins from Latvia - USSR, with a request for information on Bicycle Moto-cross.
Received letter on January 7th. 1987. Read on.

December, during 1986 a book was issued called "Tout savoir sur le Bicross", by Michel Mazouin and Michel Lalanda.
A book with many pictures was issued on Le Bicross or in English, on BMX. Michel Lalande (France), a trainer/coach did write this book together with Michel Mazouin. Seen here a serie of pictures taken from that book to show you it's contense. Looking at the pictures it seems the dutch Team AMEV was rather popular at the time since almost at all pages a picture of an AMEV teammember was printed. Thanks for publicity !
December., one of the largest cycle companies on France got involved heavily in BMX and BMX Freestyle, MBK / Motobecane.
Here just a few pages from their brochure on thier products The French BMX Freestyle team called "MADDOGS" were showing MBK's materials. Members of this MBK Freestyle team were, José & Michel Degado and Adolphe Joly.

December 1986, an issue of BMX ACTION Magazine on its 10th anniversary.
Bob Osborn's BMX ACTION Magazine existed 10 years now. A special 10th. Anniversary Special Edition was issued. BMX ACTION Magazine has been very important helping developing and educating youngster on BMX.
Must be said, BMX ACTION and BOB OSBORN and crew made BMX known through this magazine on a world wide scale. Fantastic pictures and interesting stories as well as product information published by BMX Action, the leading BMX Magazine in the World at the time.
December 1986, during the KNWU end of year thropy presentation, BMX TRICKX Magazine presented their special trophies, being,
the Rider of the Year 1986, Factory-team of the Year 1986 ánd Promotor-Organizer of the Year 1986 Trophies. Bas de Bever won the Riders of the Year trophy, Raleigh-Mantel did win the Factory of the Year Trophy and Gerrit Does did win the Organizer-Promotor of the Year trophy.


December 1986, here some Dutch history report, an opinion in Dutch by Gerrit Does,
on the development of our sport in that periode, the composition of the BoD of I.BMX.F. at the time and a time-schedule of the to be helt International Indoor event in the Ahoy Sportpalace-Rotterdam, February 1987.


YEAR 1987.
January, I (GD) organized another BMX team, "Team SINISALO".
Since I stopped acting as General Secretary I.BMX.F., I concentrated more on setting up teams, coaching and supporting riders and such. Team Sinisalo was such an action and with the help of my nephew Nico van de Kuinder, the Importer of Sinisalo clothing (originaly for motorcycle moto-cross) from Finland, we started this team.

Its members were: Freddie van Breemen, Marcel Mandigers, Paul Rovers, Pieter Does and Patrick Claessens. Team manager Arno Rovers. All riders were international orientated and did compete in many international events in Europe.

January. Presentation of the 1987 "Team AMEV", the Dutch national selection of the K.N.W.U. (Royal Dutch Cycling Federation).
Teammembers for the 1987 team were: Addie v.d. Ven, Phil Hoogendoorn, Pierre van Zuijlen, Jan Hekman, Bas de Bever, Rob Bulten, Nico Does, Corine Dorland and Anita v.d. Mortel, all Dutch National Champions in their classes. Team manager Gerrit Does. One of the first ever BMX'ers of Holland, Wim Rijk became mechanic of Team AMEV. Gary Graus and Stanley der Meer were appointed as physical trainers and doctor Jan Reyntjes acted as team-doctor (was also working as a doctor for the KNWU).

January 7th. I received the first letter from Mr. Janis Silins of Valmiera - Latvia, part of the U.S.S.R. at the time.
As trainer-coach of bicycle racers in Latvia, Mr. Janis Silins had to go to Moscow once and a while to upgrade his know-how on physical training. While studying at the Central State Institute of Physical Cultural, specialized in youth in sports, he used the library for documentation. It was there that Janis Silins did find an article on BMX and the address of the (then former) General Secretary of the I.BMX.F, Gerrit Does. For a couple of years to come Janis and I would correspondent a lot and it happened in 1988 that Janis visited Holland for the first time to orientate himself on the actual racing technical organization of the sport of BMX.

January 7th. A letter came in addressed to the I.BMX.F. office, written by Mr. Juan Carlos Carbo A., President of the club de ciclocross CRAZY STARS.
Juan Carlos Carbo asked if the Asociacion Colombiana de ciclocross Americano had renewed their I.BMX.F. membership and what the situation was between I.BMX.F. and the UCI. The letter was sent on to the I.BMX.F. office in Australia.

January 10-11th. The 4th. International BMX TROPHY - Indoor, Leeuwarden - Holland, I.BMX.F. sanctioned.
Mike Miranda (USA Pro) was invited and acted as "color boy" and made a great show. This 2 day event did have around 800 entries. During the official opening, this years Dutch Factory Teams were present. At the time 18 teams had registered for team competition. They were: Mantel team - Terra Cotta Team - v. Dijk Racing Team - Profile team - Sinisalo team - Asco team - IS team - Champ Sportsfood team - Pro Winner Team - Exelsior team - Haak team - CW team - O.T.W. team - EPOS team - Kostwinder team - Jaws team - Schokker team and the Dutch National AMEV team. Most of these team were active on a international European level. During this event I also came in contact for the first time will Paul Roberts from England.

February 14-15th., the 3rd. (Inter)National Indoor AHOY - Rotterdam took place.

This was the 3rd. indoor at the AHOY - Sportpalace facility in Rotterdam. The first event took place in 1984 and the second event was in 1985. This year also international riders entered. They were: Darren Wood, Clive Gosling, Nicky Restall, Winnie Wright, Karen Murphy and others, all from England. Uwe Sturm from Germany was present as well as Wolle Meyer and some riders from Belgium among them Tom Franssen.

Overall this event did have 1379 entries. Two Dutch riders designed this BMX track, Gert Jan Kostwinder and Wil Schepers. Both riders (19 and 20 year old) presented their case, showing it on a "maquette", to the actual organisers. Both designers wanted and did make a spectacular BMX track design that could beat the Bercy-Paris indoor track. However, their design was denied which was very frustrating and disappointing for these 2 young men. Now a kind of simple track was layed down, a not outstanding track as a matter of fact. Anyway,the races went on from Saturday till Sunday.

During ths indoor event also BMX Freestyle demo's were schedules. Brothers Paul and Bart de Jong performed during this event. On Sunday also a Factory Team presentation took place with cheerleaders cheering teams on during the presentation. Dutch National TV was present during the Sunday races and specialy the main events ofcourse were fimed and broadcasted. Good promotion for BMX on Dutch National TV again.
The 1987 Team AMEV performed well. Corine Dorland did win her Girls 12/13 class, in Superclas 20" Phil Hoogendoorn finished 3rd. and in Supercruiser class Jan Hekman finished 2nd. In Experts 16 Martijn v.d. Bogaard and Nico Does were battling for 1st place all the time. Dutch National Champion Nico Does had a "perfect score" and won this Experts class. Also Bas de Bever did win the Experts 17 + class. Both Nico and Bas showed off during the team presentation and they both did a x-turned-down-one footer jump together.
Hero of this event in the absolute top class, Superclass 24 inch, was Englishman Darren Wood and in Superclass 20 inch German rider Uwe Sturm. The Factory Team competition was won by team "Haak Machine Fabriek". For all the results check the lists below.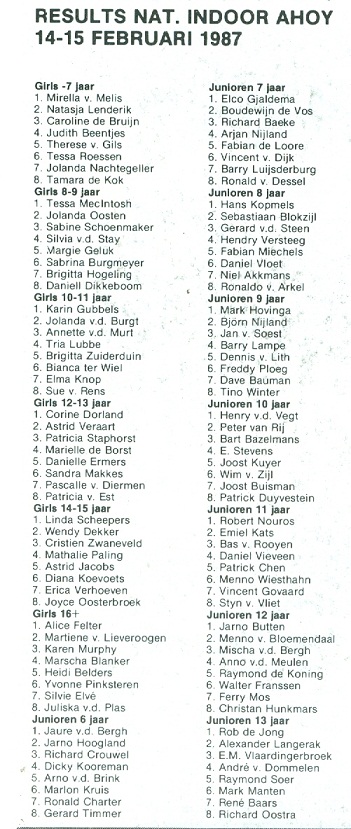 February 25th. Because BMX began to grow rapidly in Argentina since 1985 and became kind of an important sport in this country,
the members of Asociacion Moron, Circulo de Bicicross Buenos Aires, Club Bicicross Neuquen, Club Cipolletti and Acebim from Mendoza, decided to create the Argentina BMX Federation (F.A.B.). Their main goal was to spread and develop BMX in Argentina and start competing at an international level. Within the Latin American area, F.A.B. can be considered as one of the most important BMX federations from 1991 on.

February 28 - March 1st., the 3rd. International Indoor of TOURS - France, I.BMX.F. sanctioned, took place.
Around 500 riders participated in the 3rd. Indoor of Tours. Foreign riders mainly from Holland, Belgium and Germany were present. The Trophee des As was an open event / competition in which any rider could participate, superclass, expert. The result of this special race was:
1. Eric Minozzi (F)
2. Claude Vuillemot (F)
3. Frank Chevreton (F)
4. Christophe Berthiaud (F)
5. Bas de Bever (NL)
6. Frank Roman (F)
7. Christophe Boules (F) and
8. Uwe Sturm (D).
As it will show in the History of BMX, the Indoor Tours would become the only International event the lasted for many, many years (20+ times organised).
Some famous names that raced there in 1987:
Anne Caroline Chausson (girls under 7), Delphine Deguerce both of France.
Nicolas Grevet-F (9X), Marcel Fleur-NL (15X), Yannick Delporte-F (15X), Franck Chevreton-F (16X),
Fabrice Vettoretti-F (16X), Bas de Bever-NL (17-24X), Pierre Henri Sauze-F (17-24X),
Xavier Robleda-F (14/15 cruiser), Kris Wouters-B (Supercruiser), Alain Deschagt-B (Supercruiser),
Dirck Demeuleneir-B (Supercruiser), Wolfgang Meyer-D and ofcourse long time hero's Xavier Redois-F
and Claude Vuillemot-F.
USA freestylers invited were GT riders Josh White and Martin Aparijo. The were part of the "big party" at Tours and gave freestyle demos.
Spain (Amics del Bicicross) was no longer an affiliate with I.BMX.F. (did not pay their contribution for some years now).
Detail ! Mrs. Hayek (owners of Swatch watches) her son stopped racing BMX bikes.

April 22nd. In order to promote BMX in Holland at an international level,
Gerrit Does and 2 others started an official registered organization, called the "Stichting Fiets-Cross Promotion Nederland" in short S.F.N. (stichting stands for foundation). Among other thing the organization of the European Challenge Cup events would be organized by the S.F.N. as well as the University of BMX training-camps (from 1990 thr. 1996). The S.F.N. was dissolved in 1997.

June 12th. through 14th., the European Challenge Cup IV at Ponypark - Slagharen, Holland took place.
This event included Round 3 of the European Championship Superclass 20 and 24 inch. In total 1522 entries from 10 countries, being Spain, France, England, Germany, Sweden, Norway, Denmark, Switzerland, Belgium and Holland. Overall 1044 races were run (moto's, qualifiers, finals).
During this weekend, a BMX disco was organized by Sam Wood (father of Neil Wood) in front of the Donald Duck Hall. Many riders attended. BMX Free-style demo's during the weekend by Stuart "Pepi" Winder, Carlo Criggs and Mike Canning. Warming up group BMX Free-stylers: Bart and Paul de Jong with Hessel Waalewijn.
As an extra, a Nation relay race was held. The French team did win with Holland second. Personally I was very impressed by an accident that took place. Dutchman Erik Dukino did crash after the first jump. His handle-bar went into his right leg and smashing his main artery. He was taken to hospital, had surgery several times and recovered 100%. Some time afterwards he even did race again.
Tom Lynch (GB) did win Superclass Throphy 20 inch final. Superclass 20 inch was won by Phil Hoogendoorn (NL) and Superclass 24 inch by Pierre van Zuylen (NL) both AMEV team members.

July 6th. The BICROSS SUPERTOUR in France started from Cherbourgh - France.
This "Tour de France" type of organization traveled mainly through the south of France. Among others several German top riders took part in this event: Uwe Sturm, Wolle Meyer, Tom Falter, Ivo Vidakovic and Bert Ruckert as well as riders from Holland, the AMEV-teammembers Phil Hoogendoorn and Jan Hekman. Also several Italian and Swiss riders took part in this event. Some hot riders from France were Franck Chevreton, Franck Roman, Pierre Henri Sauze (still racing today: 2001), Nicolas Prenot and Frederic Cassan. In total 35 riders took part in this BICROSS SUPERTOUR. The first race took place in St. Malo. The direction Bordeaux town called Royan and Hourtin. Then this circus moved to the Mediterranean area, more specific the city of Beziers, then Hyeres close to Toulon is the place were the Supertour ended.

July 17-18-19th., the I.BMX.F. European Championships in Houthalen - Belgium.
Riders younger than 12 years, did race for the European CUP and the older ones raced for the European CHAMPIONSHIP titles. For the Superclass this was the 5th and final round for the European Championship titles 20 and 24". This was the first time that only in the age groups from 12 year on official titles could be won. It was also the first time big doubles were built (about 10 meters apart from each other) which caused several serious injury's and a lot of discussion afterwards. 12 countries present with 1037 entries. The French entered the largest delegation with 170 riders.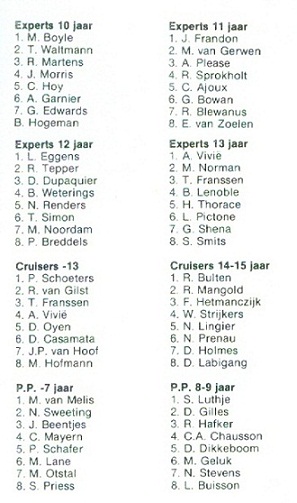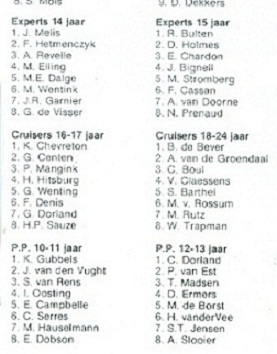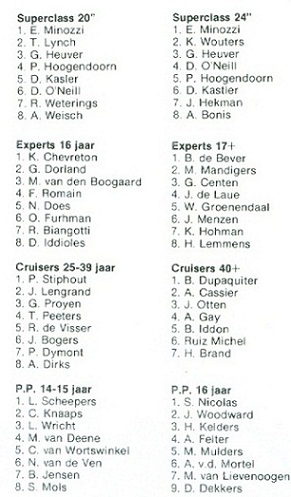 Eric Minozzi (FRA) - European Champion Superclass 20 + 24 inch
Tom Lynch (GBR)- Vice European Champion 20 inch.
Kris Wouters (BEL)- Vice European Champion 24 inch.

August 8-9th. The 6th. I.BMX.F. World Championships in Orlando - Florida USA,
organized by the NBL and by The Orlando Parents Council and Fairgrounds BMX under leadership of Mr. Art Beeler.
We traveled as AMEV team. Left Holland August 3rd. and return August 18th. 1987. Group members were: Phil Hoogendoorn, Jan Hekman, Bas de Bever, Anita v.d. Mortel, mechanic Wim Rijk, team doctor Jan Rijntjens and non Amev team members former World Champion Monique Franssen and Sandra Dumaine traveled with us. Other team members joined us later: Pierre van Zuylen, Corine Dorland and family as well as trainer Stanley der Meer. We stayed at the Orlando Marriott along the International Drive.
24 countries represented with over 1504 entries. Countries present were: Aruba (17 riders), Australia (98 riders), Austria (1 rider), Belgium (20 riders), Brazil (25 riders), Canada (63 riders), Chile (117 riders), Colombia (36 riders), England (209 riders), France (103 riders), Germany (10 riders), Holland (76 riders), Ireland (3 riders), Mexico (25 riders), New-Zealand (51 riders), Norway (11 riders), Panama (12 riders), Peru (39 riders), Scotland (14 riders), Spain (3 riders), Sweden (13 riders), Switzerland (16 riders), USA (434 riders) and Venezuela (54 riders).
Mr. Art Beeler and his family had laid down a perfect track, anyway for European standards. The surface looked like billiard table, just fantastic it was a super track. The weather however was a problem for many riders: it was too hot during the day, 105 degrees F (means about 38 Celsius) and about 90% humidity. That's why racing was scheduled in the evening, meaning the riders had to race with artificial light.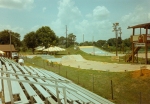 In BMX during the early periode of its development, at important events like a World Championship, parades were kind of common. Everybody loved it to walk in the Parade of Nations just before the official opening of the event. In the USA it is extra special because of the way of how the do this: soldiers (cadets) carying all National flags of participating countries and the National anthem was song life by a choir. Everybody was very enthousiastic about this official opening.
Racing was great, but (202 moto's) nothing in BMX happens without some controversy, even at the World Championship. The biggest sticking point this year was over late entries and classifications. Several top U.S. riders, including Mike King, Shawn Texas and Lawa Cunningham, failed to enter the race in time in their 17 and over expert class. But because no US rider entered the 20 inch Superclass and each country can have up to 16 participants in each class, they were allowed to sign up in that division. Some of the European team managers were very upset about all of this.
World Champion in Pro class 20" became Gary Ellis and in Pro cruiser the World Champ was Eric Rupe. Superclass 20" was won by Mike King and Super cruiser class by European Claude Vuillemot of France, a fantastic result. Some more names of riders with a long "BMX history" in the years afterwards: Todd Lyons (15X), Brian Lopes (15X), Eric Carter and Todd Corbit (17X), all USA riders. Darren Wood (GB), Armand Bonnis (F), Denis Labigang (F), Pierre Henri Sauze (F), Lisa Wright (GB), Karen Murphy (GB), Bas de Bever (NL) riders from Europe.
BMX pioneer and old school BMX racer Scot Breitphaupt was present too during these I.BMX.F World Championships, involved as "colour man" in making a video and TV show of these worlds. Seen here is Scot co-ordinating activities with cameraman and crew.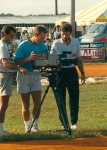 The presentation of awards was organized in a dark and air-conditioned hall, on the fairgrounds. Before each presentation a short video-clip was shown of the class concerned and after that the World Champion was asked to come to the podium, together with numbers 2 through 8. This gala award ceremony was very much appreciated by all foreign riders and supporters present.
Here some pictures to give you an impression of the riders paddock at the Orlando track.
The final results of the I.BMX.F World Championships in Orlando-Fl., USA.
Pro Class 20": Pro class 24":
1. Gary Ellis USA 1. Eric Rupe USA
2. Eddy King USA 2. Bill MaddenUSA
3. Greg Lanthorne USA 3. Craig Selbert USA
4. Charles Townsend USA 4. Doug Jicha USA
5. Greg Hill USA 5. Roger McLeod USA
6. Travis Chipres USA 6. Travis Chipres USA
7. Pete Loncarevich USA 7. Kevin Hull USA
8. Robb Bearns USA 8. Jarrett Justice USA
Superclass 20": Superclass 24":
1. Mike King USA 1. Claude Vuillemot FRA
2. Mike Kiniyalocts USA 2. Jimmy Puglin USA
3. David Cullinan USA 3. Phil Hoogendoorn NED
4. Xavier Redois FRA 4. Pierre van Zuylen NED
5. Tom Lynch GBR 5. David Kastler FRA
6. Andy Welsh GBR 6. Darren Wood GBR
7. Christophe Bethaud FRA 7. Doug Zimmer USA
8. David Kastler FRA 8. Armand Bonis FRA
6 & Under Experts: 7 Experts:
1. Gary Houseman USA 1. Ross Thompson GBR
2. Matthew Hanna USA 2. Golden Anderson USA
3. Eric Johnson USA 3. Stu Wilson GBR
4. Robert Beattle NZL 4. Jonathan Lee USA
5. Billy Herrera USA 5. Simon Taylor GBR
6. Carlos Vergara PAN 6. Jaux Ortiz CHI
7. James Phillips GBR 7. John Fulmer USA
8. Jimmy Cannon USA 8. Michael Dirosa USA
8 Experts: 9 Experts:
1. Nick Brungardt USA 1. Frank Gregory USA
2. Tony Gilham GBR 2. Rich Houseman USA
3. Jeremy Everidge USA 3. Anthony Reyes USA
4. Marco Delavega CHI 4. Jacquel Gonzalez VEN
5. Donny Dunstall USA 5. Ryan Quinn CAN
6. David Coleman GBR 6. Peter Holland GBR
7. Tommy Saruer USA 7. Bradley Comment USA
8. Mike Brandt USA 8. Pedro Joles CHI
10 Experts: 1 11 Experts:
1. In Hee Lee USA 1. Daniel Sprague AUS
2. Paul Piatkowski USA 2. Marc van Gerwen NED
3. Shawn Bone USA 3. Mark Sterious USA
4. Jaaquin Ramolfo CHI 4. Chris Eudaley USA
5. Wes Searer USA 5. Kevin Hall USA
6. Thorsten Amellung NED 6. Ryan Crupi USA
7. Rick van der Waard NED 7. Eric Paine USA
8. Florent Poussin FRA 8. Ivan Luna VEN
12 Experts: 13 Experts:
1. Gary DeBacker USA 1. Shelby James USA
2. Ryan Scott USA 2. Joe Eastwood GBR
3. Mike Luna USA 3. Chase Didget USA
4. Carl Burroughs USA 4. Justin Ransom AUS
5. David Lovat USA 5. Brett Stamats USA
6. Andrew Robertson AUS 6. Justin Green USA
7. Darryn Hill AUS 7. Saul Maryal VEN
8. Luis Suarez VEN 8. Jan Carlos Franco VEN
14 Experts: 15 Experts:
1. David Milham USA 1. Todd Lyons USA
2. John Purse USA 2. Frederic Hetmanczyk FRA
3. Galen Starlin USA 3. Robert Swick USA
4. Kris Gordon USA 4. Nick Freeman USA
5. Javien Zapata COL 5. Brian Lopes USA
6. Aaron Valente GBR 6. Denis Labigang FRA
7. Ricardo Martinez BRA 7. Sam Arellano USA
8. Laurent Rougemont FRA 8. Andrew Figliomeni USA
16 Experts: 17 & Over Experts:
1. Bernard Gant USA 1. Eric Carter USA
2. Jason Naumann USA 2. Todd Corbitt USA
3. Peter McIntyre NZL 3. Sean Riblet USA
4. Steve Dillard USA 4. Sean Callihan USA
5. Barry McManus USA 5. Jamson Hendler USA
6. Shawn Cummins USA 6. Daniel Rojas CHI
7. Danny Gibson USA 7. Matt Hadan USA
8. Craig Reynolds USA 8. Danny Millwee USA
13 & Under Cruiser: 14/15 Cruiser:
1. Shelby James USA 1. Todd Lyons USA
2. George Seevers USA 2. Brian Lopes USA
3. Justin Green USA 3. David Milham USA
4. Wade Porter USA 4. Andrew Figliomeni AUS
5. Gary DeBacker USA 5. Denis Labigang FRA
6. Dustin Gordon USA 6. Gregory Fournick CAN
7. Brad Cashwell USA 7. Frederic Hetmanczyk FRA
8. Chris Anderson USA 8. Shan Hatfield USA
16/17 Cruiser: 18-24 Cruiser:
1. Matt Hadan USA 1. Bas de Bever NED
2. Bernard Gant USA 2. Donald Hier USA
3. Todd Mitchell USA 3. Daniel Rojas CHI
4. Eric Carter USA 4. Ron Walker AUS
5. Glenn Pavlovsky USA 5. Jim Wahl USA
6. Scott Johns AUS 6. Todd Corbit USA
7. Peter McIntyre NZL 7. Pierre Henri Sauze FRA
8. Gerben Dorland NED 8. Phillippe Manoin FRA

25/39 Cruisers: 40 & Over Cruisers:
1. Phillip Haanskorf AUS 1. John Johns GBR
2. Mike Harker USA 2. Rob Geluk NED
3. Darl Stewlow USA 3. John Terry USA
4. Peter Stiphout NED 4. Errol Nelson NZL
5. Jean Legrand FRA 5. Gary Martin USA
6. Hector Ponce CHI 6. Bob Warnicke USA
7. Mike Chapman USA 7. Michael Butler USA
8. Pascal Dittoux FRA 8. Herman Brand NED
7 & Under Girls: 8 Girls:
1. Melissa Rickards USA 1. Phillippa Gordon NZL
2. Shannon Hughes USA 2. Reanna Birch AUS
3. Tracy Sarver USA 3. Ghedy van deb Aker NED
4. Kelly Thursby AUS 4. Ashton Robinson USA
5. Carley Meyern GBR 5. Natasha Sweeting GBR
6. Lisa Corthell USA 6. Lynsey Terry GBR
7. Kelly-Ann O'Neill USA 7. Marama Tamepo NZL
8. Kim Condran AUS 8. Kimberley Martin USA
9 Girls: 10 Girls:
1. Cindy Ainsworth USA 1. Tania Walker USA
2. Monica Kelly USA 2. Kelly Smith USA
3. Helena Gibletti AUS 3. Kerrie Ann Whyte AUS
4. Renee McKean AUS 4. Leanna Mobley USA
5. Margie Geluk NED 5. Tammy Balazs USA
6. Christy Dewitt USA 6. Serena Collins NZL
7. Saclyn Wilson AUS 7. Nadine Stevens NED
8. Danielle Dikkeboom NED 8. Sucila Zanzi VEN
11 Girls: 12 Girls:
1. Michelle Cairns USA 1. Melanie Cline USA
2. Michelle Gibson USA 2. Lyndal Ellement AUS
3. Heather Strickland USA 3. Shkoh Wilson USA
4. Paula Montgomery NZL 4. Donna Hatfield AUS
5. Natarsha Williams AUS 5. Sophie Ballereau FRA
6. Jessica Smith USA 6. Karien Gubbels NED
7. Rocky Boggs USA 7. Angie Lyall USA
8. Adele Croxon GBR 8. Kim Kisha USA
13 Girls: 14 Girls:
1. Jessica Towles USA 1. Corine Dorland USA
2. Angela Thomburg USA 2. Carola Sullivan USA
3. Nicole Buffett USA 3. Tiffany Kellner USA
4. Sonya Church NZL 4. Jennifer Hembury USA
5. Valerie Caouette USA 5. Shakira Mols NED
6. Kimberly Fournier CAN 6. Tonya Lee USA
7. Tracey Tegg USA 7. Laurie Prestis USA
8. A. DeCastro FRA 8. Kirsta TaylorUSA
15 Girls: 16 Girls:
1. Melanie van Deene NED 1. Fiona Langfeldt AUS
2. Stacey Lupfer USA 2. Leslie Carter USA
3. Boo Kendall GBR 3. Krystal Martin FRA
4. Luli Adriemo GBR 4. Julee Loree USA
5. Paula Dibben GBR 5. Christine Zwaneveld NED
6. Jennifer Wardle USA 6. Lilliam Reynals CHI
7. Lisa Wright GBR 7. Ginger Ballards USA
8. Dorothy Wallace GBR 8. Claire Hutchens GBR
17 & Over Girls:
1. Anita van de Mortel NED
2. Marsha Blanker NED
3. Martiene v.d. Lievenoogen NED
4. Sandra Dumaine NED
5. Heidi Kelders NED
6. Karen Murphy GBR
7. Kim Groner USA
8. Gay Worlley AUS
Medal count:
Country GOLD - SILVER - BRONZE
1st place: USA 22 23 22
2nd place: Holland 4 3 3
3rd place: Australia 3 4 2
4th place: England 2 2 3
5th place: France 1 1 1
6th place: New Zealand 1 0 1
7th place: Chili - - 1
Total number of medals: 33 33 33
National Team Trophy results:
1. USA ................................ 400 points
2. Australia ......................... 348 points
3. Holland ........................... 310 points
After racing action.
After the event was over, several riders stayed in the US, Florida for a longer periode to do some sightseeing and racing at local tracks. Here some pictures taken at the hotel, after the actual racing in which you can see riders and coaches enjoying themselves in and around the hotel. It was also great fun to meet up with old friends like Ted Inoue (Japan), Don Hutelin (USA) and among others Bob Wright (USA) and his wife of Ecko helmets.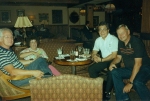 Ted Inoue and I on the golf course.
Founder member of the I.BMX.F. Mr. Tadashi Inoue announced his retirement at the annual I.BMX.F. Congress. He was awarded a Life membership of the I.BMX.F. In the afternoon, while the annual Congress still was going on in the afternoon, Tadashi (Ted) Inoue and myself went out to play golf. I was acting as caddy for Ted. Scot Breithaupt, a pioneer of American BMX, was instrumental in getting the World Championship televised on Nickelodeon.
Our group also went sightseeing ánd attended several local BMX race events.
Our group visited Disney World, Sea World, Kennedy Space Center and other interesting tourist attractions during our stay in the Orlando area.
Members of our group stayed at the Hutelin's and at friends in their neighbourhood as well as at the Esser's home.
After the Worlds in Orlando, our group moved down south to Pompano, Ft. Lauderdale and Deerfield Beach. Part of our group stayed at the Hutelin residence and part stayed at the Esser's residence. A Welcome party was organised at the Hutelin's, among other things. Here some pictures giving you an impression of our stay in Pompano and Ft. Lauderdale.
Meeting up with Nelson Channady, having fun at Deerfield Beach and big problems riding Jet-ski's.
During our stay in the Ft. Lauderdale area, we did meet with several old friends. Among them former Pro BMX racer Nelson Channady. With a small group of about 10 pesons we went to the beach in Deerfield Beach. We played some beachvolley-ball and relaxed on the beach. After that we all went to a small lake were Jet-ski's were available for rent. We rented 3 Kawasaki Jet-ski's, Nelson Channady did pay $ 250,= as a garantee in case of something happened to the Jet-ski's.
Well, Jan Hekman, Phil Hoogendoorn and Bas de Bever went out on the Jet-ski's for the first time. They were fooling around and at a certain point Bas and Phil collided and one of the Jet-ski's started to make water. Quickly Jan came back to the shore and told this to the owner of the Jet-ski's. This guy completely went crazy, crabed Jan's Jet-ski and ran over were Bas and Phil were at that time. Phil's Jet-ski"was going around in circles and when the owner tried to stop this Jet-ski, he ran into that one too and like a rocket his Jet-ski flew into the air and into a tree on the shore across were we were standing and watched all of this happen. Conclusion, everybody came back safe, Phil had some bruisses on his arm and back and the owner was totaly going out of his mind. Nelson lost here his $ 250,= garantee and we went away quickly, O boy, what an adventure this, big laugh afterwards.
Several riders took part in local BMX race in Miami and an evening race in Coral Springs.
The Dutch riders competed in local events taken place in Florida after the Worlds, among others a race at the Miami "Boys Town" track, run by Billy Green at the time. Also an evening BMX race was attended, which was a nice experience as well. All of this was great fun and riders as well as officials learned a lot. We visited the MCS bicycle factory in Pompano were Greg Esser showed us around and ofcourse we had to eat, so some pictures of diner during the evening in this periode.

Visiting the MCS bicycle factory in Pompano where Greg Esser showed everybody around.
Racing at Coral Springs under very hot weather conditions.
Our trip came to an end.
Our trip almost came to an end. We did spent again some time at the beach, We had diner time after a day's hard racing at Coral Spring, Florida. The next day we did spent again some time at the Deerfield Beach, packed our stuff and left the USA for Holland the next day. Our World Champions were celebrated on arrival at Schiphol Airport and at home. Another great adventure and experience gained thanks to this trip to the BMX Worlds in Orlando Florida, USA. Thank you very much hosts for having us.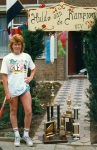 Home safe.


August 7-9th., the 3rd. F.I.A.C. BMX World Championship - Bordeaux, France.
Here a resume from a report written by the KNWU (Royal Dutch Cycling Federation) chef d'equipe, present at these championships. Due to the fact that the KNWU was UCI-FIAC affiliated also (besides being an I.BMX.F. affiliate for BMX), the KNWU did sent a delegation to these championships. In comparison with the I.BMX.F. World Championships, these FIAC ones were of a very low quality. With about 10 different countries present, officials only did speak French. This was the reason for many problems and mis-communication during the event not only with the riders but also with the chef d'equipes. Time-schedules were issued, but nothing did go according to those schedules. Races were not run regularly and many times racing was stopped in order to allow officials to issue penalties and handle protest. Officials also worked with yellow and red cards as in soccer!!! A yellow card ment; placed back at 8th place. A red card mend, your out of the race and disqualified: one could go home! Due to lack of experience and grazy kind of interpretation of FIAC rules by the officials, many riders were sent home. The racing rules were a lot different from the I.BMX.F rules and the original FIAC rules weren't in use here; altered rules were used. Again very confusing and NOT ery professionaly at all.
The track itself did have a U-shape and wasn't very spectacular. One grazy rule was that, when at the last straight towards the finish-line, a rider had to go straight forward. If he/she dared to move from left to right, even without an other rider close-by, a yellow card was shown and riders concerned was placed last (8th). The track had a lenght of about 300 meters and was covered in about 25 seconds.
The police was present prominently. Among other things, they were used to help stop fights on the grand-stand between French and Italian supporters. Several times they had to restore law and order this way. The police was also ordered to prevent disqualified riders to go to the starting gate, when trying to get back in their race! Very bad for the image of BMX.
Also a special rule for these FIAC championship was, that riders had to race three times in a eight-/quarter and semi-final. When having 2000 riders this would be totally impossible to realize ! But with about 400 riders one could still do this kind of qualifying.
Disaster truck after the 4th. race of the day on Saturday, the starting gate failed to work properly: no lights were working etc. After a long discussion it was decided to start "manualy". Then the problem with the language occurred again. Too many problems overall for such an important event. Not positive for the sport of BMX at the time. The World-Championship titles were only to be won in the age-classes of 12 year and older. The younger riders were placed in the JEUX MONDIAUX: no title could be won here. In the 12 official world title classes, Holland brought home 5 FIAC world titles; Belgium won 3, Italy won 2 and Switzerland and France just 1 world title. From the top three place per class (gold, silver and bronze) including the JEUX MONDIAUX, Holland won 24 prizes, Germany 19, Italy 16 and Belgium 9.
Final question remains: how would the FIAC Worlds look like in 1988. The FIAC allocated these Worlds to Belgium, lets wait and see!!
Results of the 1987 FIAC BMX Worlds Championships Bordeaux - France.
Experts 17 & over: Experts 16 year:
1. Marcel Mandigers WC Holland 1. Jeffrey Bignell WC- Holland
2. John Glofke Germany 2. Olivier Clerici France
3.Uwe Sturm Germany 3. Somin Blinkhorm England
Juniors 15 years: Juniors 14 years:
1. Gunther DeVisser Belgium 1. Tom Franssen Belgium
2. Marc Friedly Switzerland 2. Joxha Lindemann Germany
3. Andréas Buck Germany 3. René van Gilst Holland
Juniors 13 years: Juniors 12 years:
1. Piet van Brummelen Holland 1. Alessio Bagnaresi Italy
2. Dany Boulanger Canada 2. Claudio Capelli Italy
3. Robert Tepper Holland 3. Markus Blau Germany
Juniors 11 years: Juniors 10 years:
1. Gill Nicolas England 1. Cory Banks Canada
2. Beind Hogemann Germany 2. Claudio Severgnini Italy
3. Morris James England 3. Pascal Freiburghaus Switzerland
Juniors 9 years: Juniors 8 years:
1. Ben Carter England 1. Gerry Mcamaloney Canada
2. Scott Beasley England 2. Robbic Froyen Belgium
3. Robert Solka Austria 3. Livio Zampieri Italy

Juniors 7 years:
1. Lee Sey Mowr England
2. Enrico Fianeseoni Italy
3. Simone Gilli Italy
Girls 15 years and over: Girls 14 years:
1. Chantal Cnaeps Belgium 1. Astrid Veraart Holland
2. Kann Dieterick Germany 2. Sabine GentieuFrance
3. Angelika StolleGermany 3. Claire Edwards England
Girls 13 years: Girls 12 years:
1. Daniëlle Ermers Holland 1. Manuela Hauselmann Switzerland
2. Arieta Minnema Holland 2. Tanja Winter Germany
3. Vicky Meeus Belgium 3. Katrin Mintrop Germany

Girls 11 years: Girls 10 years:
1. Francesca Durando Italy 1. Anne Caroline Chausson France
2. Ludivine Portmann France 2. Jones Abel Fletcher England
3. Donna Turner England 3. Cornélia Koch Austria
Girls 9 years: Girls 7 - 8 years:
1. Claire Buckinger England 1. Sabrine Barbe France
2. Nathalie Romm Germany 2. Katrin Stenger Germany
3. Cindy Rouchet France 3. Stéphanie Capdepont France
Anne Faure France
Cruiser 17 & over: Cruiser 15 years:
1. Stéphanie Migliorini Italy 1. Walter Fabre France
2. Edwin Lamers Holland 2. Jeffrey Bignell Holland
3. Thorsten Beinke Germany 3. Jason Dekker Holland



Pictures, courtesy of Dutch rider Jeffrey Bignell, 1987 World Champ FIAC - Bordeaux in Expert 16 class.

September, seen this advertisement in BMX Action (Bob Osborn).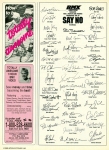 September, the complete AMEV BMX National Team, riders, trainers and mechanics were invited for a lunch at the AMEV headquarters in Utrecht.
The compete National KNWU BMX Selection, the AMEV team was invited for a lunch at the AMEV Insurance headquaters to celebrate the fantastic results the team accomplished this year. Speeches were helt and presents given to all teammembers. Present were: Phil Hoogendoorn, Addie van de Ven, Pierre van Zuylen, Jan Hekman and Ludy van der Werff as riders. Fysical trainers Stanley der Meer and Jeroen Vrijdag were present as well as mechanic Wim Rijk and Teammanager/coach Gerrit Does. Not present was doctor Jan Rijntjens. Picture shows the team and teamtransporter.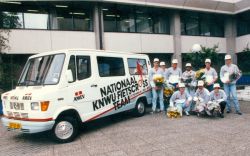 October 24th. Pastachoca Fietscrossfestival Ponypark Slagharen-Holland.
The KNWU (Royal Dutch Cycling Federation) organized a special event for all KNWU licenseholders and they asked Gerrit Does to act as promotor of the event (actual organizer of the event). After permission from the BoD of at the time, Ponypark Slagharen in Holland, the event was o.k.'d. Main sponsor for the event was a sweet product to put on your bread, called Pastachoca. A maximum of 384 riders would be allowed to race (KNWU ruling), more specific a maximum of 16 riders per class were allowed to register. If there were over 16 entries, the first entries in would go first.

November 28th-29th. The 4th. Bicross International de Bercy - Paris, France.
Info will follow soon.

December. Developments on BMX
BMX situation in Holland: license numbers going down from 3831 in 1986 to 2875 in 1987! Still over 130 racetracks all over the country.
The Spanish organization lost it's I.BMX.F affiliation earlier this year due to financial problems (Fee wasn't payed).


Picture gallery, old school stuff:
Amev Team outfit
Souvenirs from the '80 s
Action by Toby Henderson (USA) - Nico Does (NED) and Xavier Redois (F), all '80 s stuff.