5th. UnivofBMX USA Training Camp December 1996
5th. University of BMX Training Camp Orlando and Daytona Beach - Florida & the N.B.L. Christmas Classic Columbus-Ohio, USA
Period December 15th through 31st, 1996

Early November 1996 the details for our 5th University of BMX training camp to the USA were finalized. In total 35 persons would travel with us to the USA of which 31 riders. 20 persons travelled with us from Amsterdam to Atlanta and Orlando on December 15th. and later on from Orlandothrough Atlanta to Columbus on December 24th. We went back hom from Columbus through Atlanta to Amsterdam on December 30th, arriving at Schiphol-Amsterdam airport on December 31st. 1996.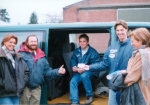 3 riders (Sascha Meijenborg, Aqio Ramhalho and Joe Ruckgaber) would travel from Stuttgart, Germany leaving December 15th. also and 2 riders (Mark van Leur and Pieter Does) travelled from Schiphol-Amsterdam to Columbus on December 24th. And also 3 riders (Stephen Murray, Scott Edgworth and Marco Dellísola) travelled from Londo to Amsterdam, Minneapolis to Orlando - USA. The others would meet up with us in Orlando, since they travelled on their own or were already in the USA. Also Tarek Rasouli planned to com along, but cancelled his trip in November.
So when we arrived at Orlando International Airport we arrived in groups and that did not make transportation from airport to our hotel in Orlando any easier that first evening. But .... all arrived safe and sound and everybody was in bed late at night, early in the morning of Devember 16th. Our transporter was Delta Airlines.

So, this European Univofbmx team consisted of 35 members. They were:
From France: Cecile Frayssinet.
From Czech Rep.: Jakub Hnidak.
From Austria: Mario Penn and Marcus Hummer.
From Switzerland: Yannick Rosset, David Diddier and Marlies Knill.
From Norway: Arne Orstad and Ann-Helen Larsen.
From England: Steven Murray, Steven Edgworth, Marco Dell'isola and Anthony Revell. Jamie Staff joined the group.
From Germany: Berd Michl, Sascha Meijenborg, Aquinaldo Ramalho, Joachim Ruckgaber.
From Sweden: Johan Edman, Sanna Ohlsson, Tobias Ahlborg.
From Holland: Pieter Does, Mark van Leur, Jorg de Louw, Dorus Brink, Cunno Rossen, Robert de Wilde, Rebecca Wichman, Wilco van Kruistum, Bianca Tenniglo, Bart Bazelmans, Nico Does, Lisenka Welten, Mieke and Gerrit Does.


As usual we hired 4 Chrysler Vans again. In Orlando we stayed in the Ramada Inn Central along West Colonial Drive, about 1,5 mile away from teh BMX track. All of our riders rode their bikes to and from the track and the Chrysler Vans brouhgt clothing, helmets, food and drinks needed each training.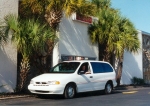 The Orlando BMX track was now run by Mr. Jeff Kania (track Director) of the Orlando Fairground BMX Parent Council. Mr. Beeler picked us up from the airport with his car and large trailer to holt about 30 bike-boxes and just as many suite-cases, as he did the previous years. The trailer was over-loaded. We did have a tight schedule: training sessions every day and several days 2 training sessions, one in the morning and one in the afternoon. As the years before we organized a European style training clinicfor all Orlando club members on the Saturday, which they liked very much. Also some of our European team members took part in the Orlando evening race on that day.
Besides the scheduled training sessions, we planned sight-seeing and shopping. Ofcourse Disney World and Universal Studios were part of our traditional tours. The weather wasn't nice that day so this was a good time to visit those parcs.
December 17th. I did rent a small truck to tansport all of our bikes to Daytona, were we had a training session at the Daytona BMX track (thanks to Shag Shaughnessy) and were the riders competed in an evening BMX competition at the same track. We left Orlando very early in the morning, visited Daytona Speedway and shortly the beach before we went to the track. At Daytona Speedway, Porsche was testing. Oh boy, that made me crazy! I love that sound and the speed of those cars, its just great to watch. Late at night we all returned to our hotel in Orlando.

We rented a truck through U-Haul to transport all of our equipment from Orlando to Daytona and back.
Visiting Daytona Speedway is always a very exiting thing to do. At the time one was able to get close to the fense and race-cars passed at about 1 meter distance from you, CRAZY!! I love this.
A few pictures of our training session that day at the Daytona BMX Track. Shag Shaugnessy helped us out again very well.
We also went to the beach again for a short while. This time no physical training on the beach (sand).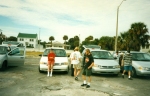 During one of our days off, my wife, Nico, Lisenka and I, went to Pompano Beach to visit a dear friend of mine, Mr. George E. Esser, founder of the NBL - USA and one of the founder members of the I.BMX.F. (together with Tadashi Inoue - Japan and Gerrit Does - Holland). We had dinner together with George and his son Greg Esser and afterwards we did spent some time in Miami.
Ofcourse we had diner together, the Does and Esser family.
On arrival in Columbus - Ohio, we all had Christmas diner together at the Hyatt Regency Hotel. This had become a tradition and the people of the hotel knew that. We all enjoyed our Christmas dinner very much. We all watched The Presidents Cup State team competition and the Euro riders took part in the NBL Christmas Classic Day I and Day II events. Total budget for this trip by 35 members of our group was Dutch florins 60.000,=. Included were expenses for 25 tickets (the rest payed their own way directly), rent of 4 Chrysler Vans during our stay in Florida, expenses for 11 hotelrooms in Orlando ánd 11 hotelrooms in Columbus.
As the years before we hired a bus holding 50 persons for transportation (Adventure Charters, Inc., mr. Fowler) from airport to hotel and visa-versa. This year no snow in Columbus Ohio at the time we were there. It still was cold though and we went from approx. 25 C. in Orlando to - 5 C in Columbus.
After arrival and settling down in our hotelrooms, the riders got their bike boxes out and went to a special area in the halls next to the hotel to put their bikes together and place them in a closed "parc fermé". As every year before, also this time we all had our Christmas diner together at the Hyatt Regency hotel. Special tread by the Hyatt management since normaly the kitchen should be closed on Christmas evening.
Finaly the racing started, first the President´s Cup event and then Day I and Day II of the NBL Christmas Classic 1996. Pictures speak for themselves, read comments when opening pictures. There were around 2.000 entries for this event and among them riders from almost all USA States to compete in the President's Cup event.
Training/practice started both days at 6.00 hours in the morning and at 9.00 hours actual racing started. The first day racing came to an end at about 21.00 hours. Over 2.000 entries takes that much time! The next day racing finished at about 19.00 hours. Long, very long days indeed.
Here the results of Day I, NBL Christmas Classic 1996:
Here the results of Day II, NBL Christmas Classic 1996:

Here a copy of an article in a German Magazine called Freedome BMX

Directly after the event we went to diner and later on we had to pack all our stuff. The next day, December 30th. 1996, we had to leave the Hyatt Regency at about 10.00 hours. Everybody was ready and in the lobby with their equipment at 10.00 hours. We left the hotel bu Bus/Coach at 10.30 hours as you can see on the pictures below.
As you can see on this picture here, no snow in Columbus, it still was very cold (freezing).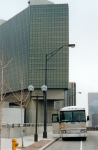 On arrival at Schiphol - Amsterdam airport, early morning December 31st. 1996, everything outside was covered in snow. We all made it safe back home and only one rider got injured during the Christmas Classic event (broken arm).
Remarkable was the fact that if one compared 1990 with 1996, the event showed much more interest of sponsors now at the Christmas Classic itself. Economic were getting better in the USA. This was another successfull trip to the USA. Up till today, the 1996 trip has been the last one of a series of five.
End of report.