2nd. UnivofBMX USA Training Camp December 1991
2nd University of BMX Training Camp Orlando-Florida & N.B.L. Christmas Classic Columbus-Ohio, USA
This was the second organized trip to the USA by Gerrit Does of the University of BMX, holding a BMX clinic and taking part in the Christmas Class. All arrangements were finalized before leaving for the USA and teammembers were informed of all details concerning their trip, training and racing.
Also a complete info bulletin was handed out. Here the index and some more travelling tips.
Period December 17th through 30th December 1991
In this year the University of BMX European team consisted of 34 members.
Team members from France:
Michel Lalande (trainer/coach)
Claude Vuillemont
Nadine Gaudillat
Sabine Caballe
Florent Poussin
Jean Christophe Tricard
Cecile Frayssinet
Michael Clerte
Sebastien Soubielle.
Eric Minozzi was on our list to be part of this trip, but did not come. Instead René Nicolas, father of French BMX, travelled with us to the USA.
Team members from Germany:
Peter, Ingrid, Robin and Toby Hardt
Joachim Ruckgaber
Tim Simon
Andreas Höpping
Jochem Beurer
Team members from Switzerland:
Marc Murbach
Yannick Rosset
Team members from Holland:
Marscha Blanker
Jan Goor
Bas de Bever
Martiene vd Lievenoogen
Alberto de Jezus
Marcel Polkamp
Carolien Polkamp
Josefien v. Amersfoort
Mieke, Pieter, Nico and Gerrit Does (team manager/ organizer - trainer/coach)
Not travelling with us, but being part of our group in the USA were from England:
Dale Holmes
Paul Roberts.
They participated in the BMX clinic in Orlando.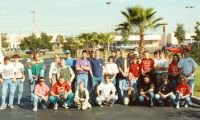 The group left from Schiphol Airport on December 17th. Through Boston we arrived in Orlando. December 25th. we left from Orlando to Columbus and after the Christmas Classic we left the USA on December 30th. through Detroit and Boston to Europe, more specific Amsterdam. Northwest Airlines was our transporter. Besides training, sight-seeing, shopping and the traditional Free BMX Clinic at the Orlando BMX track, we also went to Daytona Beach for one day. Ofcourse visited Daytona Speedway and spent some time on the beach.
After a long flight we arrived at Orlando Intern. Airport in the evening (23.40 hours). While waiting for our transportation, some of us took a short rest, seen here Pieter Does on the floor. Mr. Beeler arranged transportation from Orlando International airport to our hotel (and back later on), Comfort Inn, West Colonial Drive in Orlando, about 1 mile away from the BMX track. We did have reservations for 12 hotelrooms at the Comfort Inn. Our usual means of transportation, 4 Chrysler Voyager Vans holding 8 persons and 4 till 5 BMX bikes in the back. Vans hired through BUDGET rent-a-car. Traveling with a large group always asks for discipline, specialy concerning how to keep your bikes boxes and suite cases under control. I wanted bike boxes and suite cases always in line and guarded by our teammembers.
On pictures above a track overlook and here an impression of our daily training sessions, 2 times per day about 2 hours. In between training lunch and a rest periode. GD overlooking and coordinating training activities and during training sessions several short rest periodes to have a drink and eat some fruit, arranged by mr. Art Beeler, the track/operator. By the way, to have use of the track only for our group, we had to pay US $ 300,00.
During our taining sessions ofcourse time for a drink and a snack. Mr. Beeler arranged drinks and fruit for our team. Trainings session 2 times a day each about 2 hours. In between sessions the group went back to the hotel, had lunch and some rest.
Ofcourse there was time for some sightseeing and entertainment. Universal Studios, Sea World and Disney were the places to go too. Here the Euro team visiting Universal Studios, The French part of our group went to another park that day.
Back at the track again
1991 also was the year the Nico Does started with WEBCO Bicycles. Co-sponsor GET-O Wear (Fl.-USA) was represented by its owner mr. Bill Prince. He visited with us during one of the training sessions. During our stay in Orlando, the youngest teammember Toby Hardt celebrated his 10 anniversary and as in 1990 also this yeat the University of BMX conducted a Free BMX Clinic for local kids, which was attended very well on the Saturday and took place from 13.00 till 16.00 hours.
As in 1990, most of our groupmembers did compete in the local races at the Orlando BMX track on Thursday night and Saturday night. Some nice trophies were won by several of our groupmembers. The trip we made to Daytona Beach wa very nice, visiting Daytona Speedway on our way. Personaly I love to watch racing at Daytona Speedway. Visiting the Daytona Speedway Museum I did found out, that my brother in law Pierre Karsmakers at the time Yamaha factory MX rider in the USA, who did win one of the first Supercross Moto/cross stadion events at Daytona Speedway, was a member of the Daytona Hall of Fame.
Off to Columbus - Ohio to participate in the NBL Christmas Classic indoor at the Hyatt Regency Convention Center.
We left Florida (about 25 degrees C.) for Columbus early in the morning Temperature in Columbus about 10 degrees below zero C. We arranged transportation through Ultimate Tours run by mr. Mark Goble, who picked us up by "coach" and brought the group of 34 persons, bikes boxes and suite/cases from airport to our hotel, the Hyatt Regency Center, North High Street in Columbus. Again here 12 rooms available for our team. For the rest same procedure as the year before.
Christmas dinner
As in 1990, I was able to arrange with the hotelmanagement to organise a Christmas dinner for our University of BMX group. Normaly the kitchen was closed on Christmas eve at the hotel, but the management was so kind to help us out. Again, we had a great time and just our group was having diner in the Hyatt's restaurant that evening.
Finaly the two days of racing started.
To give you an impression of the Christmas Classic BMX event, here several pictures of which only a few action pictures. First of all I had to check the registration of our teammembers with NBL official and friend mrs. Erma Miller. Ofcourse Santa had to be present during Christmas time.
The picture in the middle above is one of Bas, Christophe and USA rider Tony Zynaka. Some time later Tony would come over to Europe, stayed at our house for some time and a longer time Tony stayed with our German friends, the Hopping family.
For those interest, here the results of the University of BMX teammembers in the 1991 NBL Christmas Classic in Columbus / Ohio, USA
Time to go home.
December 30th. we were picked up by Ultimate Tours and transported to theColumbus Airport to leve for Boston, were we had a connecting flight to Amsterdam. December 31st we arrived in Amsterdam at around 9.40 hours. All our bike boxes and suite cases in line, easy to check and controle that way. After a safe trip, everybody got back home in time before New Year 1992. Another great trip enjoyed by all of us. For several riders this was also the time they made good contacts in the USA and several of our groupmembers made arrangement to come back and stay in the USA to live and race later on like Dale Holmes Christophe Leveque and Paul Roberts.
The end of another fantastic trip to the USA with the UNIVERSITY of BMX.