2004, The Renny Roker (JAG BMX) story
Waalre, November 2004.
RENNY ROKER, the man with whom International world wide BMX started.
Renny Roker, a unique promoter of among others, BMX.
Recently I received an e-mail from the USA by someone called "BMX MOM", I did not know who this was. This mail made me aware of the fact, that Mr. RENNY ROKER, the promoter of an event called the JAG BMX World Championships in the early days of BMX (1978 - 1985), has been instrumental in finally getting BMX recognized worldwide. I will explain now (looking back) what happened back then.

Personally I did meet Renny Roker in 1979 at the JAG BMX Worlds in Indianapolis – Indiana, USA for the first time, when together with Louis Vrijdag I went over to the USA to compete with 9 Dutch BMX racers in these so called JAG BMX World Championships. The impact of what happened there and then has resulted in what International BMX is today. Renny Roker has never been honored for being instrumental (as far as I know anyway) allowing National representatives get together and facilitate them with a meeting room and catering. With this article and a SPECAIL RECOQNITION note, I want to set the record straight and make you all aware of how important Renny's JAG BMX World Championships in 1979 and 1980 were.
A short history on Renny Roker.
Sometime 1982 an article was written by Bob Hadley on Renny Roker in BMX PLUS. Here a part of that interview with my own personal notes added.
"Renny Roker is a promoter. He was, arguably, the most successful promoter in BMX from 1978 till about 1986 and maybe even till today (1982, we don't know all promoters world wide, but those we know don't have the record Renny has). Every year since 1978 his JAG BMX World Championship of BMX has broken all previous attendance records. Unlike most top promoters Renny has a golden tonque. Unlike most BMX promoters, Renny has an extensive background in professional promotions and show business.
For record promotions he has earned two gold singles (sales of over 500,000 copies): four gold Albums (again sale of over 500,000 copies): and one platinum album (sales of over one million Copies). The platinum album was for his work in the KISS album " Destroyer". Note GD: The fact is that when I (GD) visited Renny Roker at his office (Roker Enterprises, Westlake Village, CA.) together with my brother in law Pierre Karsmakers, I did see al these golden and platinum records hanging on the wall.
In concert promotions Renny has been very successful working with groups like Donna Summer, The Commodores and George Benson. Highlights in his promotion career include having produced sell-out concerts at The Los Angeles Coliseum and Soldiers Field in Detroit.
At the time Renny also was a professional actor, having had a major role in movies HONKY TONK FREEWAY. In addition to doing parts in many television shows (like CHIPS, Gomer Pyle, Sanford and Son, Six Million Dollar Man, Good Times and Nobody is Perfect, just to name a few).
Last thing I know about Renny in this field of acting was, that he was considering accepting a part in the sequel to " THE STING".
Renny Roker and BMX.
Renny got involved in BMX accidentally. Started a business called "Roker Enterprises" of which he was one of the owners. There was a second owner and business partners, his wife Carmen Roker.
Renny Roker as sponsor
Renny Roker is a person that really would like to see the world united in bicycle motocross (Note GD: at that time only a few countries were starting up BMX organisations, outside the USA. BMX in the USA was getting organized from around 1974 on). Renny got interested in organizing a World Championship after looking through some letters from kids from Australia and Japan. Renny stated: We ought to have kids from all over the world racing in BMX, that was his reaction. We (Renny and company) got together with SKIP HESS (at the time owner of Mongoose – note GD) and he gave us names of people from all over the world and we wrote to all of them and invited them to come over for the JAG Worlds and compete. People like Gerrit Does who just started a National organization in Holland, was contacted too. We invited him and his riders to come and race at the JAG BMX Worlds. To help them out with expenses, we did sent a couple of JAG BMX bikes to raffle.
Note GD: this is indeed what happened. Check out the pictures taken at the firest ever BMX track in Holland in the city of Eindhoven in 1979. On the infield the JAG bikes, ready to be raffled.
* Picture taken at the first ever BMX track in Holland in Eindhoven (1979).
If I am right, Renny did organize around 6 JAG BMX World Championships from 1978 till 1985 (for details, check out the History of BMX on that) and one UN World Championship by Roker Enterprises in 1983. For the first time ever, Renny also got cable TV interested in BMX, ESPN (all sports) and broadcasted the 1981 W.C. event sponsored by Coca-Cola.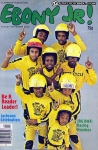 Team JAG BMX
Most important initiative for International world wide BMX during the 1979 event was the gathering of main players in BMX from several countries, like Japan, Holland, Canada, Venezuela and USA. It was George Esser's, Tadashi Inoue's and Gerrit Does' idea to start a world governing body, organized by National BMX organizations. Thanks to the JAG BMX World Championships we were able to get together as National organizations and discuss these idea's. The idea was to organize world championships not only in the USA, the country of origin of BMX (Bicycle Moto Cross), but in different countries world wide. This organization should also be non commercial or a business, so a different approach from the JAG Worlds. An organization form as within the FIM (International Motorcycle Union), well know by George Esser and Gerrit Does.
Renny Roker supplies the facilities during the Indianapolis events to meet and discuss the above. The follow up of this first meeting was a second meeting during the 1980 JAG BMX World Championship in Indianapolis, were the final decision was made to start a world wide BMX organization, later to be called the I.BMX.F or International BMX Federation. In April 1981 the I.BMX.F. was founded at the NBL office in Pompano - Florida, USA.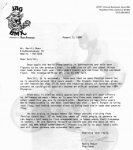 Invitation Worlds 1980
The JAG BMX World Championships of Renny Roker became the step stone of what international world wide BMX is today. For that reason the University of BMX and specially myself (GD) want to express their appreciation and respect for what RENNY ROKER did for BMX in general during that periode of time. Not many people will realize that because of Renny Roker's JAG BMX Worlds, international BMX on a world level, is what it is today. Developments started there and then.
THANKS AGAIN RENNY !
Note GD January 2008:
After the publication of the above "appreciation" article and the fact that Renny Roker, after many years of absence came back into the sport of BMX somewhere in 2007/2008, the University of BMX did receive several reaction from people that were very critical of RR's come back and us "appreciating" him. Several former BMX Pro riders complaining about the fact that they haven't been payed by RR after a JAG BMX Worlds event. Also promisses weren't met and so on.
We at the University of BMX were very sorry to hear all of this, but it must be said that the actual business side of the JAG BMX World Championships, does not take away the fact of National representatives getting together during two of these events and in the end starting the I.BMX.F., a world governing body that among others should prefent that kind of "mistakes" being made by promotors. The National BMX Federations were made responsable in the first place. The fact remains, again away from the organization business side of things, The JAG BMX World Championhips were very important getting BMX world wide organized in 1981. From all of that, I.BMX.F. got together with FIAC and later on integrated into the UCI in 1996. This year we will have our 27th World Championship in Taiyuan - China since 1982 and the 13th WC since the I.BMX.F integrated into UCI. Without the JAG BMX Worlds this might not have happened !
End of note.