DORLAND Corine (Holland)
1994 World Champion
1993 World Champion
1991 World Champion
1995 European Champion
1993 European Champion
1992 European Champion
SPECIAL RECOGNITION
Corine Dorland has been crowned the QUEEN of CHAMPIONS, holding 3 World titles in the highest age/performance classes and another 7 titles in lower age classes, which makes 10 world titles won in total.
Corine Dorland switched in 1997 to MBT.
After Sport Career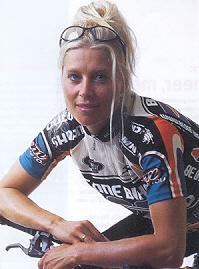 Updated April 2003: CORINE DORLAND (NED). Old Skooler BMX'er and still the Queen of BMX with 10 World titles, finished 9th in the recently (Febr. 2003) held Cyclo-cross World Championships in Switzerland.
Besides BMX and Mountain Biking (two times National Champion in the meantime in this category, in 1999 and 2000), Corine now tried Cyclo-cross for the second year in a row and did very well.
World Champion in Elite women Cyclo-cross class, became Dutch National Champion (Mountain biking) Daphny van den Brand. Corine (cross-country), now 29 year old, still is a member of the BE-ONE Team, with team mates and former BMX'ers Bas de Bever and Wilfred v.d. Haterd (NED), both down-hill specialists. 2001 The Queen of BMX, CORINE DORLAND as mountain-bike cross
December 1988. Article on Corine Dorland in BMX PLUS by John Ker.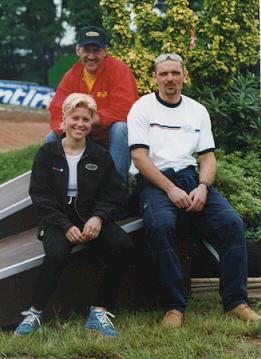 Valkenswaard World Cup 1997: GD together with Corine Dorland and Bas de Bever