History of BMX (2017-2018)
Year 2017.
January,
May 6 -7th. 2017, UCI BMX SX round at Papendal Olympic Training Center, Arnhem - Holland.




My Opinion on the UCI BMX SX Papendal – Holland of May 6-7th. 2017
After the UCI BMX Worlds at Zolder in Belgium in 2015, I decided to take it easy and stop giving my opinion to the UCI and other decision makers in BMX world wide, which I did before for several years. I did not go to a lot of BMX events since 2015. Lately I was invited by a friend as a guest/VIP at the 2017 UCI BMX SX at Papendal-Holland. So, here we were on Saturday and Sunday, May 6 -7th. at the Papendal race.
Besides that, Dutch National TV, NOS-NTR Andere tijden sport, was following me around during the weekend. They were making a docu about the start and rise of BMX in Holland and Europe. This 30 min. docu will be broadcasted on Sunday evening, July 18th. 2017 on NPO 1 at 22.15 hours. Anxious to see the finished docu.

Because of being present, watching the racing and side-events, my creative BMX mind started to work again and after the event I had to give you all my opinion one more time. Hope you don't mind ….... Also because things looked better and situations improved and that's worth while mentioning too.

A view things I learned, had changed this year. First, former promotor, BMX Holland stopped organising this event. The Papendal organisation (Jochem Schellens as "main-man" and his crew) were now organizing this event themselves. As before, there were side-events in place. Papendal also took care of well planned promotion through social media and for sure that worked. Compliments!

Arriving on the venue I was surprised by the many, many cars in the parking lot. Big difference with the previus years (2011 > 2016). On the side-event venue, next to the BMX venue, for 2 days long many people were present, including many children and they were using the facilities. Great job done here, I think. Compliments Papendal!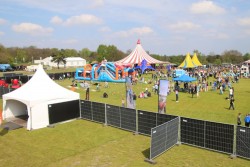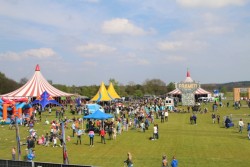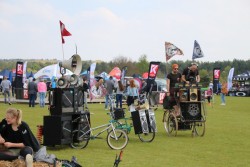 Racing technical changes.
I was happily surprised by the fact that from 2017 on, the UCI decided, not to use the TIME-TRIALS anymore. Probably you all know my opinion on time-trials and I am very glad those rials are cancelled. The Olympic qualification system is used now. Now we don't have to sit for hours and watch just 1 rider go round on the track, we can see racing happening again.

I also learned that to be allocated a World Cup or Super Cross event, it is not a MUST anymore to have an 8 metre starting hill. The 5 metre hills are o.k. too now. I think that is a very good step forward to. It gives many more professional organizers world wide a change to be able to organise such top events. (read UCI Chargebook page 82, To be allocated a Worlds an 8 mtr hill is required. To be allocated a World Cup/SX, a 5mtr. till 8 mtr. starting hill will be accepted.

In my opinion it also will be SAFER for the riders, these 5 mtr. hills. Less speed coming down the 5 mtr. hill means also less heavy crashes and I think that racing might even be more spectacular on those tracks with 5 metre starting hills. An 8 mtr starting hill looks spectacular to the outside world, but may also caus career ending injuries. An extra benifit is that probably most BMX clubs can afford themselves to built a 5 mtr starting hill. Thats a different story with an 8 mtr. hill. It is disappointing ofcourse for those organisers that already built 8 mtr. hills. Still SAFETY goes first, so its a good thing speed goes down somewhat.

Note: Still one serious problem remains concerning SAFETY of the riders. The concrete, tec-soil, brick layed tracks, I hope in the near future someone comes up with a unique idea to change that too in order to prefent further bad injuries by the riders when crashing. We have seen a couple of bad crashes at Papendal also this weekend, I am sorry to say. But again, BMX is a contact sport and speed is involved. Just like in moto-cross and road cycling, accidents will happen.

In motorcycle road racing and formula 1 for instance, safety is a hot item. Look what has happened in the past 20 or more years. Safety improved a lot. In BMX we have to work harder on that too.

Improving the last straight.
I can't resist giving my opinion/advice on the last straight (done that before!). Looking at the SX and other tracks, the last straight needs some attention. It will bring more racing and exitement till the finish-line, when after the set of whop-de-doos on the last straight, at least 25 meters will be FLAT (no obsticals) in order to have the riders SPRINT to the finish. It will give technical riders (whoop-de-doos) as well as power riders (24 mtr. flat track) equal changes at the end of a race ánd I am sure it will be spectacular for spectators to watch that longer sprint. Something to try-out / test I think!

Progress is made for sure.
Main reason to give my opinion on the 2017 Papendal race is the fact that is was such a different race in 2011, when the first ever SX race took place on this location. At the time mr. Lindström was the actual SX series promotor. A copy of the London Olympic BMX track was built on Papendal, including the so-called "box-jump" and so on. This 2011 race was a dissaster.

In 2011 there was a big difference in the level of riding skills by the riders, the track wasn't layed down well and that caused many, many accidents and injuries back then. You can read my report on that event on my website, www.universityofbmx.com (History of BMX, year 2011-12 etc.). It was awefull and I complained about it through my OPINION letters.

For the first time since then (2011), in my opinion this year 2017 was almost perfect race and organisation wise. Perfect in BMX is almost impossible because it is a fast and spectacular sport with 8 riders on the track and then things can happen (crashes). Besides the track itself, also the level of skills the riders has increased a lot. For the first time since 2011, I enjoyed myself for 99%. Also taken into consideration the fact that Time-Trials are no longer a part of racing. Compliments to the Papendal organisation and ofcourse compliment for the UCI on those changes made.

From arriving at the Papendal grounds till parking, entry, side-event area, BMX venue in total, everything was just great. Very friendly officials at all spots mentioned, just the way it should be. Again, a job well done here Papendal !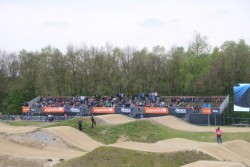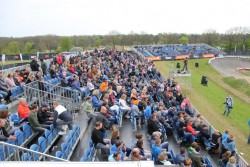 Spectators / Grandstands.
It was clear to all, that the Papendal organisation added extra Grandstands along the first straight of the track. Therefore it looked like there weren't that many spectators. Empty seats on the other grandstands. Still there were more spectators overall just on day 1, May 6th as last year in 2 days. More attention for the event by the Papendal organisers through Social Media, probably is the reason why. Well done!
However, now we have to think how to get the grandstands filled completely next year 2018. Well, since I am writing this OPINION letter, maybe I can add some suggestions, to make this event even more attractive. Here we go:

Add a new item to the race program (is my advice).
O.K., in my time (1983 – 1993) when I organized the European Challenge Cup – E.C.C. Events at Slagharen – Holland, I was able to impliment extra races or special activities, without any problem within the I.BMX.F. Today we have a different situation. Things are regulated tricly within the UCI. It still would be nice if UCI would allow some kind of experiment for 2018 to take place during the SX event at Papendal. I do have 2 suggestions/proposals, hopefully worhtwhile considering implimenting as last event of the day (Sunday). Pick one of them.

1e.: UCI BMX Trophy of Nations
For many years I am suggesting a Trophy of Nations in the setting as done in moto-cross. As a pilot project and on a small level, one could have a Trophy of Nations Cup as follows. Have Elite men and women form a team, so per country 2 riders. Have a maximum of 32 teams present. They will race 3 moto's, a semi final and a final, men as well as women. In time we need around 2 hours to runs such an event. This count be done after the SX event is finished.Have riders wear their National Flags on chest and back for better recoqniztion. I am sure this works with spectators too. They can cheer for their Country. Try to have teams present from all 5 continents.

2e : UCI BMX CORPERATE TEAM World Cup (commercial and/or factory teams).
Up and till the 2000's, factory team racing was very popular. Manufacturers were very interested in setting up teams, sopporting the sport and we can use that now-a-days again very well. Just today I learned that the UCI started Team racing again this year 2017. That's a good thing to hear. Probably it is not a seperate event, but teamriders get points for their results and in the end there will be announced a winner. That's o.k.

What I would like to see, is a Team event, maybe as a pilot project too, where teams of let's say 4 riders (Elite and Juniors, men and women?). Compete against eachother. For 2018 Papendal it should be a max. of 16 (selected) teams (x 4 riders= 64 riders) to compete against eachother for instance. Racing in Team uniforms (commercial and/ or manufacturer teams). Again, just an idea for some EXTRA exitement in 2018.

Celebrating 40 years of BMX in Holland (and therefore in Europe) in 2018.
An extra item could also be the fact that BMX will excist for 40 years in 2018 here in Holland. This celebration could take place during the 2018 UCI BMX SX event and be co-organized by Papendal, together with the University of BMX ? It's just an idea specific details have been sent to the Papendal organisation. We'll see what will happen. (SFN 1978 - now KNWU 2018 = 40 years).

This is what I had to say. Glad to see progress in adjusting BMX to what BMX is all about. Next important thing is to work on safety, specily concerning the BMX tracks themselves, soil wise. Yesterday a wise man said to me (the chairman of the professional scoccer club of Heerenveen): why do they make new modern sports that dangerous (BMX, Half Pipe snowboard, etc)! Road racing, F1 and other motorspsort have became much safer over the years. A sport like BMX should work towards that goal too. So far.

Gerrit Does
University of BMX


June 9th., UCI Press-release on among others BMX Freestyle Park
HOT NEWS, ........ Madison and BMX Freestyle Park added to Tokyo 2020 Olympic Games Programme. The Union Cycliste Internationale (UCI) is delighted to announce that the International Olympic Committee (IOC) has agreed to add the Madison and BMX Freestyle Park to the Programme of the Tokyo 2020 Olympic Games. The decision was made at today's meeting of the IOC Executive Board in Lausanne, Switzerland.

Named after legendary races organised at Madison Square Garden in New York (USA), the Madison is a dynamic, exciting and technically demanding track cycling event, which requires excellent bike handling skills, balance, strategic capability, observation and tactics. The Madison will appear on the Olympic Programme with both men's and women's races and two new Olympic gold medals to be won on the track.

The race, which is 50km for men, and 30km for women, involves two riders, a sprinter and a rouleur, working as a team to propel each other forward as they meet between laps. Teams sprint every 10 laps to accumulate points according to the following structure: five points to the first team, three points to the second, two points to the third, and one point to the 4th. Points awarded in the last sprint will be doubled. In addition to the sprints, teams can earn 20 points for lapping the field. The winner is the team with the most points at the end of the race. Famous pairs include many riders who have also been champions on the road such as Juan Esteban Curuchet-Walter Perez (Argentina), Mark Cavendish-Bradley Wiggins (Great Britain), Howard Leigh-Cameron Meyer (Australia) and current women World Champions Lotte Kopecky-Jolien D'Hoore (Belgium) crowned in April in Hong-Kong.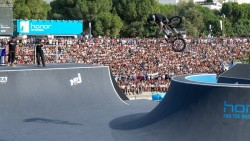 BMX Freestyle Park is a spectacular, crowd-pleasing discipline, which takes place on ramps with big transitions and large obstacles. Competitors are judged on tricks performed throughout the course, with points awarded based on difficulty, originality, style and execution. Each rider in both the men's and women's events gets two one-minute runs (which both count) to impress the judges, who will reward the rider with a score between 0-100 points, with the ultimate goal being the award of an Olympic gold medal. Famous riders include Logan Martin (Australia), Daniel Dhers (Venezuela), Alex Coleborn (Great Britain) for men, Nikita Ducarroz (Switzerland), Macarena Perez (Chile) and UCI World Cup title holder, 15-year-old Hannah Roberts (USA) for women.

In addition, in line with the UCI's strategy to promote women's cycling and the IOC's Agenda 2020, it was agreed that for Mountain Bike and BMX Racing, several quotas previously allocated to men athletes would be transferred to women, achieving full gender equity in both disciplines.

UCI President Brian Cookson said: "I am thrilled to see four more cycling events joining the Olympic programme. With competitions across very different disciplines, cycling already makes a large and diverse contribution to the Olympic Games, and now becomes the third largest sport in terms of gold medals, with 22 on offer. I am also delighted that we have made another big step towards full gender equity across all of our disciplines.

"I want to thank President Bach and the IOC Executive Board for their confidence and reiterate the UCI's full commitment to make Tokyo 2020 a great success for cycling. I also want to thank our partner FISE for the role they have played in the development of BMX Freestyle over the past 20 years.

"The Madison will bring its long-established history and exciting format to the Games, while BMX Freestyle Park has great potential to open the event up to a whole new generation of athletes and fans. In an increasingly competitive landscape for Olympic sport, it is important not only to see our overall quota remain unchanged, but to also welcome the award of four additional opportunities for medals in Olympic cycling disciplines.

"I am proud of the effort made over the past few years by all of our National Federations, event organisers, teams and riders, which has helped us improve cycling's strong position within the Olympic Movement. I am fully committed to continue this work and I am convinced that after extremely successful Games in Rio in 2016, Tokyo will take our sport to another exciting level."
https://youtu.be/qCKW7ote2C4?list=PL7NFlV830crNvwhuCWycgl7QSsgLaEuuX
END of Press-release.

November 8 thr. 12th,the 1st. UCI Urban Cycling World Championships
The UCI becomes bigger at the Olympic level, new exciting moments coming up. Also the event on November 8 through 12th. is new .........Looking forward to our 1st. UCI Urban Cyling World Championships which event includes Bicycle Trials, BMX Freestyle Park and MTB Eliminator as formats. This 1st event will take place in Chengdu - China.
History of BMX, year 2018.